With over $13 bn market valuation, Zomato begins a new Day Zero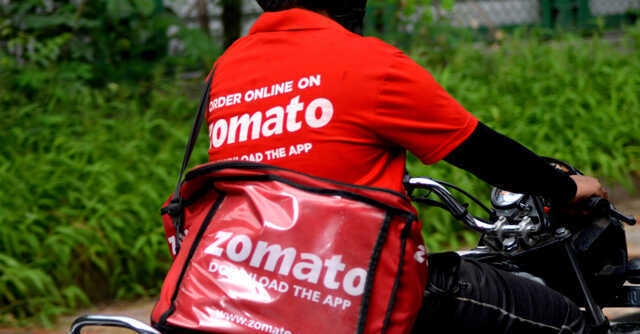 Food delivery unicorn Zomato made a strong debut on the stock markets on Friday, listing at Rs 116 per share on the National Stock Exchange (NSE), which marks a 52.63% premium to the issue price of Rs 76. The stock opened at Rs 115 a share on the Bombay Stock Exchange (BSE), up 51.32% from the final issue price.

The company's overall market capitalisation crossed Rs 1 lakh crore mark (about $13.33 billion) after the listing.
On the day of the listing, the first ever by a homegrown unicorn, Zomato co-founder and CEO Deepinder Goyal said the company is going to "relentlessly focus on 10 years out and beyond" and that it would not alter course for short term profits at the cost of long-term success.
Zomato IPO Updates: First Indian unicorn lists on BSE

"Today is a big day for us. A new Day Zero…. The tremendous response to our IPO gives us the confidence that the world is full of investors who appreciate the magnitude of investments we are making, and take a long-term view of our business," Goyal wrote in his letter.
He thanked his peers, the ecosystem, his investors and colleagues in the letter.
"Hundreds of people have selflessly played a part in making Zomato what it is today. While some of them no longer work with us, the influence of Pankaj, Saurabh, Mohit Kumar, Mukund, Akshar, and so many others can still be felt at Zomato. To our investors who have stood by us through thick and thin; Sanjeev, Mohit, Vamsi, Vishesh, Eric – we thank you for your confidence in us, and we hope to live up to your expectations in the future," he wrote.

Reliance Jio, too, found a mention in Goyal's letter. The CEO said Zomato couldn't have reached where it is today without the help of India's internet ecosystem. He specifically acknowledged the growth that Reliance Jio brought on to internet companies and the momentum created by early consumer tech platforms Flipkart, Amazon, Ola, Uber, and Paytm.
"We stand proudly and humbly on the shoulders of giants, and we thank everyone for giving us, and so many other startups, the opportunity to look ahead into the future," he said.
He said Zomato and Swiggy are two of the best food delivery apps in the world today and that there is a long way to go before "we can call ourselves world class by our customers' standards."

"I don't know whether we will succeed or fail – we will surely, like always, give it our best. But I hope that the fact that we are here, inspires millions of Indians to dream bigger than we ever have, and build something way more incredible than what we can dream of," said in his closing remarks.
Earlier last week, Zomato raised about $562.3 million from 186 anchor investors and successfully completed a public issue of shares on the Indian bourses last Friday, attracting strong interest from both institutional and retail investors. The company receive bids for 2751.25 crore shares against an offer size of 71.92 crore shares on BSE. The book was oversubscribed 38.25 times.
---