Three-time founder Abhinay Choudhari on starting up after Bigbasket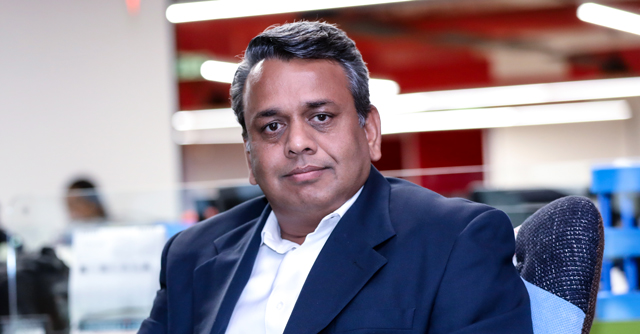 Bigbasket co-founder Abhinay Choudhari, after calling it quits from the company after a decade, is in no mood for a hiatus away from the country's burgeoning technology-enabled startups ecosystem.
The former Mitsubishi Corporation and Infosys senior executive has also donned the founder hat with online lifestyle and fashion startup Style Country, and e-grocer ShopasULike, which eventually metamorphosed into Bigbasket.
The Bengaluru-based entrepreneur, who quit Bigbasket two days after Tata Digital had announced its majority stake buy in the e-grocer, now wants to tackle the highly fragmented space of online laundry service.

"After nine years, the startup itch has been growing within me and I wanted to build one more new business from scratch. Having worked on one chore grocery shopping, I am very excited to take up a new challenge to solve another equally painful chore for many Indian households," the IIM Ahmedabad 1997 graduate wrote in an April letter subjected "An idea whose time has come" to colleagues at Bigbasket, announcing his farewell.
India's overall addressable market is expected to grow upto $15 billion by 2025, from $11.3 billion in 2019, as per recent estimates from market research and consulting firm Redseer.
Less than 10% of the B2C and B2B laundry services is delivered by online players which is expected to grow up to a $150 million market by 2025, Redseer said, adding that currently eLaundry has only a handful of serious players.

While over 100 startups have come up in this space in the last 5 years, less than 20 startups are currently seed-funded. Due a launch early 2022, Chadhauri spoke to TechCircle about his aspirations, growth projections, cash runway, and the size and scope of the new venture.
Excerpts:
Do you still retain your Bigbasket shares or any other involvement with the company currently?

I still hold 2/3rd of my shares in Bigbasket. Otherwise, only a well-wisher and shareholder and informal adviser to the team, no formal involvement with the company.
How did you graduate from the problem statement of online grocery to laundry?
Lots of guys shied away from dealing with fruits and vegetables, because that is a very challenging category to handle. But we at Shopasulike and Bigbasket from day 1 had that category, and lots of investors had this apprehension about Indian housewives coming online and fruits and vegetables coming online. Very difficult. Nobody would buy it. All that has changed. We have pretty much changed consumer behaviour.

We have become the number two fruits and vegetables retailer in the country. Offline players such as More or Bigbazaar supermarkets manage only 8-9% of their revenues from fruits and vegetables.
At Bigbasket, we're doing double of them at 16-17%. When people are saying that housewives won't buy fruits and vegetables online, they are buying double of what they buy offline. That has been the real shift in consumer behavior in the last 10 years from where we started when it was partly a segment as such into what it is now. I see a similar parallel when it comes to the next space we are entering which is an online laundry. It is very nascent, very small, less than 1% of the overall laundry industry is currently online.
How do you plan on solving the trust factor in the space and shift behaviour?

How do we really change the consumer behavior of households doing everything at home, using washing machines. It is an inertia, it just continues the way it is, there is a maid, but you are spending a lot of time doing that work, you're spending time doing it at home, you are then spending time giving it out for the ironing guy.
Obviously options exist, but are there better options? We are addressing the whole daily use case side of it so that you stop doing laundry at home, don't use the washing machine, give out everything, and the switchover cost has to be something which is affordable, so that people start doing this. If the cost is too high to give it out, then nobody will try. All Indians for that matter are very very value conscious.
We have learned the hard way that people want to save the delivery costs. The Rs 20 of delivery fee you want to charge in an order, nobody wants to give that.

If you say if you order above Rs 1,000 it is free, everybody tries to place an order above Rs 1,000. It is not that they can't afford Rs 20, but the mentality is that why should I pay Rs 20 as the delivery charge. So you bring in convenience with a very affordable kind of proposition and make the whole experience so convenient that they can use it for their daily use as against what they do today, which is going out for dry cleaning once in a while for an expensive jacket or Saari or top, or day-to-day ironing.
Day to day washing, nobody's giving out. And we want that to be outsourced. 88% of the B2C market is actually domestic spend as of now, which is close to 10 billion+, so that's the market we are going to go after.
Have you named the venture yet?
We have named it, but till the time of its launch, we want to keep it under the wraps.
When will your venture be launched?
First quarter of next year is when we will launch it in Bengaluru.
Tell us about your first investment in the space that proved as initiation.
I had made a small investment in one startup in Delhi. Idea was to get at it, once I left Bigbasket, because of my experience of using such services in the developed countries where I was working. It was so convenient. I used to travel a lot.
In London, for example, because of my consulting job Monday to Friday, I used to travel. Friday, I come back with the week-long stuff, somebody comes, takes it and they give it back on hangers on Sunday.
Very convenient. I actually kept one of the shirts, which I got from London in 2009 till 2016-17 on the hanger, just to show people (giggles) how well the shirts come. There was no such service here. I had thought that whenever I move out of Bigbasket, that is the space I want to get in.
People were starting up in terms of the aggregator model. They were all doing the aggregator model, without setting up the back end. A bunch of guys from Delhi through family and friends came to me saying they want to start something. I said if you start something, I can help you start this because this is something I want to get to later on in future, so why don't you go and start this, I can help you and I can give you some investment as well. That is the way it started as a backend kind of a startup, not backend outsourced and using the existing setup.
Idea was to get a sense of consumer behavior, understand unit economics, understand operational challenges, all of that. It's been running for the last four-five years. And now once we all have come in, me along with other co-founders full time and putting the investments, we will shut down that, because that was just a pilot that we set up. We are going to focus on setting up a large facility in Bengaluru.
Will it be a primarily B2C or B2B venture?
We will do B2C and B2B both. B2B as a space is actually wherein it is completely outsourced. The majority is already outsourced to organized players. Tapping that segment will not be a challenge. But there are again challenges in the customer experience over there, which we will address through the way we are doing it.
Do you have a revenue breakup projection for B2B and B2c?
If you just fast forward from now, let us say, 10 years, where we will be in like 30 cities, the split would be around 75-25. 75% would be B2C. 25% would be B2B. The projections are for the business for a 10-year period, when we will be in 30 cities, we will be clocking more than $1 billion as our top line.
Tell us about your first laundry centre in Bengaluru.
We are in the process of setting it up. We will launch it by early next year. We are looking at industrial parks. Most likely Bidadi, but we are yet to finalise something in over a week now.
How will your services' supply chain shape up?
We will have all four services, which is dry cleaning, and ironing as one service, then wash and iron as second service, wash and just fold as the third service, and fourth just ironing. You need to offer a full width of offering to the customers, you need to offer just ironing as well, because as I said that has already been outsourced by almost everybody.
It is a very low margin activity, but you gotta have. Also, we would be actually doing a turnaround in 24 hours. Nobody in the country today offers a turnaround of 24 hours, they're either two or three or four days, be it Fabricspa or Pressto.
To make it more frictionless for consumers, we will also have a subscription model wherein they can choose the days and times we should go to their house.
How does the cash runway at the new venture look?
US founders have already invested close to $2 million in contribution to the entity. We are also in advanced talks with few institutional investors to raise a large round of $25-30 million... within three months.
What is your reading on the broken state of affairs in India's current online laundry market with Spin Cycles, Laundry Basket and other such ventures in current business?
Now a Laundry Basket is a guy who is just focused on this kilograms concept of doing the laundry, not doing dry cleaning, not doing ironing properly, just focused on only one part of it all. I do not know what the background would be… maybe they thought it is a common practice in some other countries wherein you give out the laundry by kilograms, fitting in clothes into a bag. But every consumer thinks like that, maybe bachelors do, but a lot of other consumers who care for their clothes think very differently.
So you need to have your proposition which kind of really addresses various kinds of consumers, and not just one kind of consumer.
Number two, you need to really do it with the right unit economics. That comes in with the right backend infrastructure. A lot of these guys who started in 2015-16 were all aggregator models. They never set up any back end. They were just collecting from the customer's house and giving it to somebody who then processes and gives it back to them, and they go deliver it back to the customer.
You are just picking and delivering and as a logistics company, and you're not owning the end-to -end supply chain from that perspective. Hence, you have no control, either on the turnaround time or on the cost of your operation. When you control the backend is where you can reduce the cost of operation, to a level where you can offer a very, very affordable pricing.
And you have to think about scale, not just how you do it with just one facility, but also how you really acquire customers, scale it up, and cover the whole city without burning a hole in your pockets by running expensive logistics. That is all we have learned from the Bigbasket experience, how do we go about really setting up these hubs across cities.
---