Wiz Freight, Mudrex, NimbleBox.ai, Kenko Health, others raise early-stage capital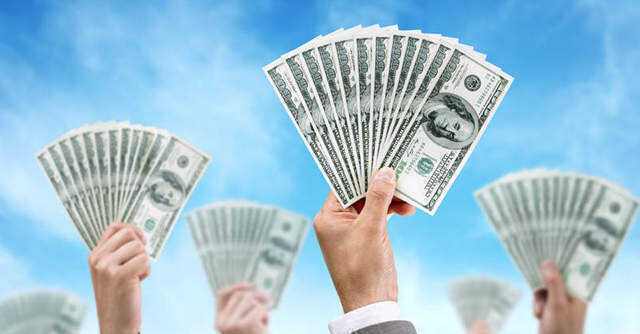 Full stack digital freight management platform Wiz Freight has raised a $3.5 million (Rs 26 crore) seed funding led by Axilor.

The round also saw participations from Arali Ventures and Foundamental, along with angel investors Ramakant Sharma, co-founder of LivSpace and Daniel Richner, chairman of M+R Spedag Group, a Swiss-based logistics conglomerate.

Founded by logistics veterans Ramkumar Govindarajan and Ramkumar Ramachandran in August 2020, Wiz's full stack platform allows enterprises and SMBs (small and medium businesses) to automate their cross-border logistics operations.

The Chennai-based company offers door-to-door import and export logistics solutions across air and ocean and works with medium and large enterprises in emerging markets. It claims to be the only digital full-stack player in the region to offer door-to-door multimodal solutions. It directly integrates with over 40 direct shipping lines.
The company serves over 200 enterprise and mid-market customers across India, South-East Asia and Middle East. Wiz's customer roster includes Adani, Tata, Mahindra, Aditya Birla, Renew, Hero, ITC, Marico, Zetwerk and Zilingo.
"We are witnessing a huge need for digitisation with pandemic-led disruptions in international supply chains. Customers are flocking towards solutions that offer better visibility and control over their shipments. We are confident that we will be able to create a long-term impact in this multi-trillion dollar global trade industry by leveraging technology," Govindarajan said.

Mudrex

Bengaluru and San Francisco-based crypto asset management platform Mudrex has landed $2.5 million (Rs 18.5 crore) in a seed round led by Nexus Venture Partners with participation from Village Global, Kunal Shah, Anand Chandrashekharan and Anjali Bansal.

The company had earlier raised $750,000 from Y Combinator, Better Capital, Woodstock Fund, and angels like Nitin Sharma and Anupam Mittal.

The funds raised will help Mudrex in scaling up the team and operations, acquiring global regulatory compliances, and creating innovative products, the company said in a statement.

Mudrex platform offers crypto investment products modelled along the lines of 'mutual funds' and 'ETFs' (exchange traded funds) for long-term wealth creation.

Its first product gives investors the ability to invest in algorithmic strategies created by professional traders. Mudrex curates these funds, assigns them a risk/reward score and offers an invest browse list for users to invest in.
Launched in 2018 by IIT Bombay Alumni Edul Patel, Rohit Goyal, Alankar Saxena, and IIT Kanpur graduate Prince Arora, Mudrex hosts over 25,000 active portfolio managers and claims to have witnessed more than $1 billion in trading on the platform. Currently, the company holds an AUM (assets under management) of $15 million.
"Mudrex is bringing wealth tech to crypto. We've been able to scale the business profitably with a growth rate of 30% m-o-m over the last 10 months. Today, Mudrex is a global platform with users from over 90 countries. Our vision is to become the leading crypto asset management platform that provides users state-of-the-art products and services to improve their trading decision making and hence returns on investment," Edul Patel, CEO and co-founder of Mudrex, said.

NimbleBox.ai

NimbleBox.ai, which aims to provide a complete toolkit for developers focused on artificial intelligence (AI), raised $1 million (Rs 7.4 crore) in a seed round led by startup incubator and accelerator Venture Catalysts.
The Chennai Angels, Nanavati Family and Astarc Ventures also participated in the round.

The company said in a statement that the fresh funds will be used to strengthen team, deliver on the product roadmap, and scale its existing customer base.
Founded by Anshuman Pandey, Rohan Pooniwala, and Naman Maheshwari in 2018, the Chennai-based startup's platform-as-a-service (PaaS) offering helps data scientists and machine learning practitioners discover, create, and launch multi-cloud applications on a browser-based platform.

According to the company, the full-stack machine learning operations (MLOps) platform is purpose-built for large datasets and supports all major machine learning frameworks.

The startup also facilitates AI upskilling for software developers.
It currently caters to over 10,000 developers in more than 30 countries as well as a set of enterprises including Intel, UpGrad, Holberton School, and Tata Consultancy Services.

Kenko Health
Insur-tech startup Kenko Health has raised $ 1.7 million (Rs 12.5 crore) as a part of its pre-Series A round from BEENEXT and Orios.

This round also saw participations from accelerator VC 9Unicorns and Waveform Ventures.

The investment will primarily be used for product development specifically in the OPD (Outpatient Department) space and for expanding the core team, according to a statement.

Founded by Aniruddha Sen and Dhiraj Goel in 2019, Kenko Health aims to build a health management organisation (HMO) which covers both healthcare expenses and medical conditions of customers.
The subscription model provides both OPD and IPD (inpatient department) coverage. It claims to facilitate payment in full without deductions and in advance before hospital admission.
"Their unique subscription model and focus on overall healthcare including OPD makes Kenko a disruptor in this space. We are excited to be partnering with Kenko Health in their pursuit to make health insurance affordable and accessible to the larger Indian population," Rahul Maheshwari, Investment team at BEENEXT, said.

Thinkly
Mumbai-based venture capital firm Equanimity Investments has invested an undisclosed amount of funding in Thinkly.

Founded this year by Vivek Saxena, Navin Pai, and Deepak Choithramani, Thinkly offers a subscription-based monetisation channel for content creators including writers, thinkers and journalists.
Saxena and Pai previously co-founded mobile payment firm ZipCash which was acquired by Ola in 2015.

"Globally, the creator economy is on fire and is one of the megatrends of the 2020s, just as the gig economy was in the last decade. We are excited to partner with Equanimity to help millions of creators in India unleash their full potential," Saxena said.

"Content has indeed proved to be the king though it is a travesty that content creators remain shackled to platforms and other channels. Thinkly democratises content and provides an avenue for creators to monetise their content directly, whether in written, audio or video form," Rajesh Sehgal, managing partner, Equanimity, said.
FlashPrep
Competitive exam prep startup FlashPrep has secured $500,000 (Rs 3.7 crore) of pre-Seed funding led by Venture Highway with participations from Better Capital and First Cheque.
A bunch of undisclosed angel investors have put in money as well.
The company said the funding will help it to strengthen user base and expand product offerings.

Launched in April 2021 by IIT Kanpur alumni Dhiresh Nagwani and Ashwini Dhekane, FlashPrep offers bite-sized content (5-15 minute) in the form of Flashcards with spaced-repetition and notes to help students study better.
"Competitive exam prep is a productivity problem which leans the preparation more towards strategy and efficiency. At FlashPrep, we believe in building a companion app for subject mastery and providing accessibility to quality content for aspirants across tiers. The funding will help us to further take this ambition to new heights, diversify our product offering and strengthen our user base," Nagwani said.
FlashPrep launched the first version of the platform on Android and iOS in April 2021 and has tracked 30,000 downloads so far with 15,000 monthly active users, the company claims.

BlueLearn
Community-driven edtech platform BlueLearn has bagged $450,000 (Rs 3.25 crore) in a pre-seed funding round led by Lightspeed, Titan Capital, 2am VC and angel investors such as Rahul Mathur, Gaurav Mandlecha and Surabhi Randev.
The company had earlier raised a first tranche of pre-series round led by 100X.VC.

BlueLearn was founded earlier this year by Harish Uthayakumar and Shreyans Sancheti. It provides a platform for students to learn new skills, network with like-minded peers, and get exposure from top industry experts.
The company claims that the community, which began on the messaging app Telegram, has now grown to 42,000 members with 20,000 MAUs (monthly active users) from 14 countries across.
The startup plans to use the funds to build its team and further develop product, it said in a statement.

"We started building the BlueLearn community in August 2020. In our conversations with them, we realised there was a huge gap in the industry exposure and opportunities students in tier-2/3 colleges received. Through BlueLearn, we want to democratise access to knowledge and bring back the 'human' element in the age of virtual learning," Uthayakumar said.
BlueLearn plans to launch a new product called Blue Clubs which is a collection of interest based micro-communities, the statement added. These communities can focus on a wide range of topics like public speaking, entrepreneurship, design, blockchain, coding, fitness, music and more.
The startup also plans to roll out a membership model for members who need additional perks like one-on-one mentorship, access to exclusive events, projects and specific courses.
Neuron7.ai
Service intelligence focused cloud software company Neuron7.ai has announced a seed investment of $4.2 million (Rs 31 crore) from Nexus Venture Partners and Battery Ventures.
The startup, which just emerged from stealth mode, plans to use the new funds to expand engineering, product, and sales team, according to a statement.
Launched by Niken Patel and Vinay Saini, Neuron7 helps enterprises make accurate service decisions. Its AI-driven service intelligence platform delivers service predictions by ingesting and analysing signals across structured and unstructured enterprise data sources including CRM data, technician notes, knowledge base content, product manuals and device data.
The solution helps service companies deliver on crucial metrics like first call resolution, turn-around-time, and service margins.
"Our value increases multi-fold when our centralised intelligence platform provides predictions across different parts of the service business – tier 1 service centres, repair, field technicians, etc. AI-driven diagnostics and resolution predictions are just the start. Our vision is that service decisions at scale within a company are accurately taken via a service Intelligence system of record," Patel said.
---