How BLive is stepping up its eco-tourism efforts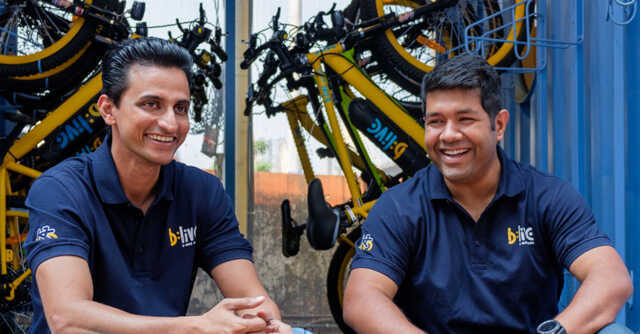 Seeing a robust and thriving electric vehicle (EV) ecosystem in Europe during his stay back in 2012-16 reminded Sandeep Mukherjee of a promise he made to his friend Samarth Kholkar during their MBA days in India.
The pact was that one day, Kholkar and he would build a business that would make a difference in the world in a 'bigger picture' sort of way. That trip gave Mukherjee the idea for a sustainable business– electric vehicle tourism.
A quick phone call to Kholkar, who resided in Goa, laid the foundation to the duo's entrepreneurial journey. In 2018, after thorough research and planning, they decided to launch an EV tourism outlet that would consist of an e-bike fleet that tourists could hire and hop around on through Goa's most popular trails.

Speaking about the inception, Mukherjee recalled, "I saw how dutifully the government (European) and the public have come together and adopted a cleaner and a more sustainable way of commuting. And I always felt that this is something which India definitely needs."
But why did the duo choose tourism? According to Mukherjee, "Samarth who is originally from Goa, has seen tourism grow from very close quarters. He explained to me that if you create a pleasant experience for consumers, they are bound to adopt. That kind of paved the way towards creating BLive."
Inception

Mukherjee and Kholkar, had been apart for over a decade on different career pursuits and led a handful of comfortable stints at leading tech firms including Microsoft, IBM and Nokia before they decided to come back together on the project.
The duo's plan, Mukherjee remembers, was met with much appreciation and support soon as they shared it with friends and investors.
Both were very particular while onboarding partners and were especially keen on adding entrants sharing their passion and vision. Mukerjee explained, "Both of us are avid travellers ourselves and that's where we felt that yes, electric vehicles are the right way to conduct modern travel. So, we started to look at people who share our passion and our level of thinking. Eventually, we were fortunate enough to find and onboard two of the biggest business houses in Goa, Shivanand Salgaocar and Shrinivas V Dempo, who loved our concept greatly."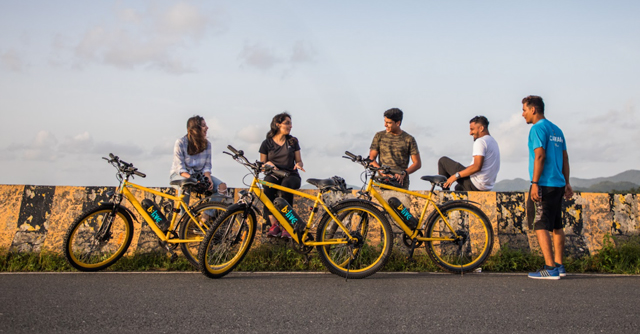 Photo Credit: BLive
Packaging experiences

BLive claims to be India's first sustainable tourism platform offering e-bikes. The company provides a carbon-free experience where the riders get to explore the heritage, history, culture of a place on eco-friendly electric cycles. In 2018, BLive tied up with Goa Tourism, landing a 20-year exclusive EV tourism partnership.
The company essentially conducts e-bike tours, which are driven as circuits. The trails are based on themes such as culture, island, food, history and village, among others. And each of these trails is about two and a half to three hours long and covers a distance of anywhere from 12 -15 kilometres. Each group of riders gets a captain to guide it.
On every tour, Mukherjee elaborated, consumers receive a very immersive experience. "For example, we take them inside of a Portuguese house which is 200 years old and have breakfast over there, to go inside a fishermen's village and seeing how shrimp farming is done, in Jaipur going into the clay pottery workshops and see how that is being done. In Mysore, we take them inside the Mysore silk factory and see how silk is made," he added.

Elaborating about the tour experience, Mukherjee said, "These days, a modern traveller is very particular about experiences. When it comes to e-bikes, they love it because it's very effortless and also you don't leave a carbon footprint behind."
The company, which runs services across 15 cities in nine states, has a national tie-up with tourism giant Club Mahindra to offer e-bike rides pan India. BLive also recently partnered with IHCL's SeleQtions to extend its rides across multiple Taj locations in the country. To date, BLive claims to have conducted a little over 130,000 kilometres of e-bike riding, more than 13,000 tours and saved more than 13 tonnes of carbon dioxide.
BLive's e-bike tours, which cost Rs 2,000 on average, include a package of a three-hour ride, food and snacks, and riding accessories sourced mostly from sustainable ventures. For the riding trips, Mukherjee explained, the revenue is shared with hospitality partners and experience partners. The experience partners include artisans and craftsmen.

Exploring revenue streams
A few months into the operations, the team chanced upon a new revenue source. BLive customers were calling the company to enquire about buying the ebikes that they rode on.
Capitalizing on the development in September 2020, the company established what he calls "India's first EV marketplace". Dubbed as "BLive EV store" the website lists all-electric vehicles, electric two-wheelers largely, on one platform where customers can come browse and consult with an appointed EV expert. Customers can buy it online get it delivered to their doorstep.
BLive's also eyeing an offline store to aggregate electric two-wheelers from multiple brands.
Mukherjee plans to translate a few of his online facilities including simple and interest-free EMIs, cardless loan facilities, and even leasing electric two-wheelers into offline stores.
Adding on the offline store plan, he said, "The offline stores will start from Hyderabad hopefully by next month. We plan to open about 20 stores by the end of this financial year. They will all be franchisee stores."
BLive EV store operates two categories: electric cycles and electric scooters from brands like Hero, Switch, Ampere and Ather. The cycles start from Rs 25,000 and range up to Rs 1.3 lakh. The scooters start from Rs 50,000 and range to Rs 1.5 lakh.
BLive aims to expand to 25 locations within the next 12 months and growing to a fleet of 500 bikes across hotels. On the offline store side, the company is aiming to partner with 15 to 20 franchisees to open up experience stores with the brand and initially sell 25 to 50 bikes per store every month.
The electric vehicle market, according to Mukherjee, is presently divided into two broad categories: Low-speed and high-speed. Low-speed vehicles, with a cap of around 25 kilometres per hour, do not require a licence or registration. High-speed vehicles, exceeding 25 km/hr, require licensing.
Faster Adoption and Manufacturing of (Hybrid &) Electric Vehicles in India (FAME-India) has also turbocharged the demand for electric vehicles.
"The current market deals 90% in low-speed vehicles. Close to 1.5 lakh units were sold last year and about 1.3 lakh were electric scooters. But now, with FAME II coming in, the government has provided a lot of subsidies and they are really driving the adoption of electric vehicles and that is helping the high-speed ones becoming much more affordable with a lot of price cuts and subsidies, and that I believe is now going to drive adoption of high-speed electric two-wheelers," Mukherjee added.
In FAME II, which commenced in April 2019, the Union government emphasized ensuring that at least 30% of two-wheelers running on the roads are electric by 2025. According to Mukherjee, this number amounts to a whopping 7-8 million out of a 22-million unit market. That puts the EV business in a fairly rosy spot, he added.
The road ahead
BLive has no direct competitor at the moment. Although there are players in e-tours market, there's no company that works on BLive's business model, Mukherjee pointed out. "We have a unique setup. People with an age of even 70 have done our three-hour tour and didn't feel tired. They feel absolutely fresh," he added.
Owned and operated by Arcis Clean Energy Private limited, BLive has so far raised a million dollars in external funding.
"Raising funds gets obviously difficult when you're starting out with a new concept. But you have to look at people who share the passion, who share your level of thinking. We were fortunate to get angel networks like LetsVenture and Mumbai Angels, JITO, Aha Ventures, on board along with some individuals," said Mukherjee.
Last month, the company raised $100,000 (Rs 74 lakh approximately) as part of a pre-Series A round of funding from ah! Ventures Angel Platform and Marwari Angels.
Previously in March 2021, BLive had raised $1 million (Rs 7.46 crore) from LetsVenture, Mumbai Angels, JITO and Credit Wise Capital.
"Investors on LetsVenture see immense potential in India's EV market and BLive is the largest EV experiential platform in the country. With favourable regulations coming into play, EVs are the future of mobility, and BLive is offering a unique experience to EV enthusiasts all over the country," said Sunitha Ramaswamy, president, LetsVenture.
The covid-19 pandemic dealt a huge blow to the Indian auto market. For EV players, the pandemic coupled with nationwide lockdowns meant manufacturing hiccups and disrupted supply chains.
The Indian EV market was valued at $5 billion in 2020, and it is expected to reach $47 billion by 2026, registering a CAGR of above 44% during the forecast period (2021-2026), according to a report published by Telangana based research platform Mordor Intelligence.
India Energy Storage Alliance (IESA) says that the Indian EV market will grow at a CAGR of 36% till 2026. The EV battery market is projected to grow at a CAGR of 30% during the same period.
---