Pranjal Patel, a class 10 student, loves online games and has been using FamPay's prepaid card for the last nine months to buy games on sites like Steam and Google Play Store to purchase in-game accessories.
He also uses the card offline. "In my city, Reliance Trends is the only shop that accepts it, and I have used it many times there. I use the card online on Amazon and Flipkart. And UPI (United Payment Interface) for local stores as well, whenever we go to buy snacks and all that stuff," Pranjal says excitedly.
Pranjal first spotted a FamPay ad on Tanmay Bhat's YouTube channel, and has been hooked to it ever since. "First, I was the only one using it. But when I got the card and told my friends about the experience, they installed it. And now each and every friend of mine is using it... I have two sisters. We also have ordered separate FamCards for us." He spends Rs 3,000-4000 every month, which "includes mobile recharges of my family, pocket money, DTH recharges, WiFi recharges, and groceries--other than on games."
Pranjal is not alone. 15-year-old Dhruv Garg, another class 10 student from Mumbai, has been using another app called Junio for about a month. He likes the fact that he no longer has to rely on his parents for cash. "When I'm with my friends now, if we have to order some food with Swiggy, I don't have to ask my parents. I can pay instantly and easily. It's pretty useful. I really like it."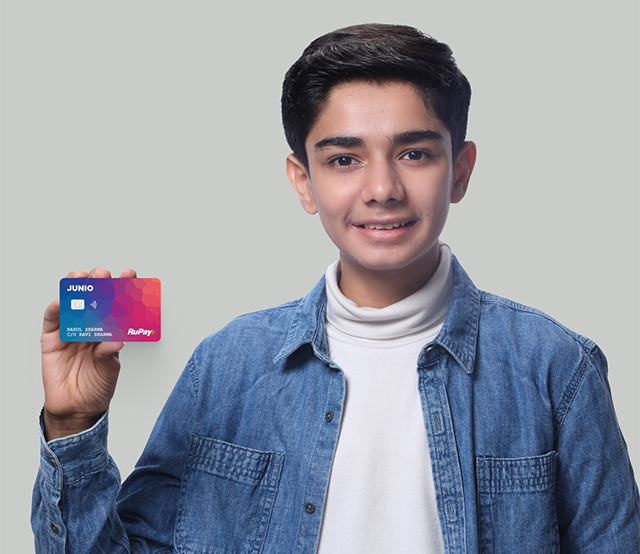 A representative image for Junio | Credit: Junio
Dhruv has spent around Rs 2,000-3,000 so far. He mostly uses Junio to order food and online subscriptions but not on Amazon "since I already use my mom's account, and there's already the Amazon Pay balance thing."
FamPay and Junio are apps exclusively targeted at youngsters with the idea to introduce teenagers in India to cashless transactions by offering them prepaid debit cards without the need to set up a bank account.
The global leader in the space is Atlanta-based Greenlight Financial Technology. Founded in 2014, it operates a money app for families and debit card for kids and teens and helps young people develop financial skills. It serves over 3 million parents and kids, who have collectively saved more than $140 million, as per company estimates. In India, at least six card and app-provider startups currently operate in the kids' fintech space.
Firstpay Technologies' Junio, for instance, launched a proof-of-concept this February with 100 users. A full-fledged launch followed in March, but due to the second wave of the Covid-19 pandemic, user traction started only in May, June and July when growth started doubling each month. As of mid-August, Junio had 250,000 registered users. Up to 80% of its user base is organically captured via word-of-mouth and referral campaigns, the company told TechCircle. The company now expects to reach 500,000 users or more within the next four-five months.
Delhi-based Junio in March 2021 raised Rs 15 crore or $2 million in an angel round of funding from the likes of Policybazaar CEO Yashish Dahiya, Cred CEO Kunal Shah, BharatPe CEO Ashneer Grover, Groww CEO Lalit Keshre and InnoVen Capital India CEO Ashish Sharma. With about one year of cash runway remaining, the company is currently in talks to raise more funding. A physical Junio card is currently priced at Rs 99, works on the RuPay network (recently migrated from Mastercard owing to Reserve Bank of India restrictions on Mastercard in India), with RBL Bank as its issuer.
Features of the Junio card include providing parents options of introducing budget and category-based classification of monetary allowances every month and creation of saving goals. It is currently also working on UPI enablement of its apps. "Post covid, digital familiarity and screentime has exponentially increased for children... Whenever content consumption as well as spent time increases, transactions are a natural corollary of that, and that is going to definitely explode," co-founder Shankar Nath said. Another co-founder is fellow former Paytm senior executive Ankit Gera.
Bengaluru-based Fampay Solutions' markets and distributes its FamCard physical prepaid cards, a wallet solution to drive the smart generation from cash to digital through a family-friendly app, which are then issued through a partnership with IDFC FIRST Bank
The startup was born when IIT Roorkee graduates Sambhav Jain and Kush Taneja decided to collaborate on their second product creation. In 2018, the two created a hostel mess app for students to plan their meal schedules on a weekly basis through a common interface that reconnected to the university's hostel management. While students could manage rebates of food and service fees already collected, IIT Roorkee could cut down on food wastage.
Kids in university and also school, the two realized, were largely dependent on on-demand and ad hoc allocation of money from guardians, thereby losing out on basic skills of saving. With quick surveys and conversations with teenagers in tier I cities such as Bengaluru, the co-founders realized kids were facing trouble in making essential purchases online without having a parent help with bank accounts, cards and OTP verifications. "We are shocked about how these are one of the most tech-savvy audiences in India and they don't have access to digital payments... Close to 40% of India's population today is below 18 years of age," Jain said. Jain and Taneja took the same problem statement to Y Combinator in 2019, scored a cheque, and decided to launch their first product in April 2020.
With covid-19 lockdowns being imposed around then, they pivoted from an offline-focused one to an online one, and eventually rolled out the RuPay-enabled cards in August 2020. "After covid, all kids stopped going out... They turned CTOs of all households. All online grocery and food-related shopping transactions began reflecting on our end... What parents do is that they just send money to their kids' FamPay accounts and kids end up doing all the grocery shopping for the homes," Jain added.
With a current tally of 2 million registered users, FamPay launched a second version late last month. The new physical cards now come registered on the Visa network and offer double the reward points compared with the old card. A virtual version of the FamCard was already launched in May 2021, which registered 200,000 users. While the old card, FamCard, is priced at Rs 500, the new one, FamCard Me, is priced at Rs 1,000.
As the current highest funded player in the space, FamPay recently raised a Series A funding of $38 million with Elevation Capital and Sequoia Capital as lead investors, adding to the Y Combinator funding of $4.7 million previously.
Hyderabad-based Pencilton, on its part, accidently stumbled onto the fintech for kids' space. Pencilton's parent entity Onaru Ventures was founded by Vishwajit Pureti, Ashish Singh, Pallavi Tipparaju and Viraj Gadde in 2017, when they tried to create a simulation to promote financial literacy. Marrying Farmville and money management for kids, they built Kubero, tying up with educational institutes and skill development centres.
Three years later, they consulted parents and eventually pivoted into the space of debit card for kids in an offering that could be activated and used with the help of an app. Pencilton now aims to help teenagers and students manage their expenses while also teaching them the basics of money management.
Pencilton's PencilCard has been operating in beta mode since November. Having collected user feedback over the months, and having raised a $330,000 pre-seed funding last month, the startup is now gearing up to launch a final version of the card. "I think everyone of us has their own hypothesis, it depends on how we are able to prove out each hypothesis... The key lies in the execution, so depending how each of us is able to execute, few or most of us might be able to carve out our niches and spaces over the next few years," Pureti told TechCircle, when asked about the competitive landscape.
Up north, Noida-based YPay is actually trying to carve its niche within the seemingly elite subset of fintech products. While its debit cards also focus on spending among kids, it aims to primarily capture India's tier-II and III cities.
Former dentist and YPay co-founder Navneet Gupta told TechCircle that he had a knack for all things technology since a tender age. He founded Bitoodle Online Services in September 2017 to provide enterprise resource planning (ERP) solutions in schools and colleges. The business led to multiple interactions with parents over four years, which led Gupta to the next step – management and tracking of children's pocket money.
With YPay, Gupta had first created a close network of cards meant for kids to use across small vendor shops in tier II and III cities. It functions as a loyalty and rewards card applicable in a select number of stores. In a four-month pilot stage, it onboarded 20,000 customers across four towns. YPay caught the attention of a National Payments Corporation of India (NPCI) officer who introduced the idea of opening up YPay's network through RuPay. This was right after the company raised Rs 1.4 crore from We Founder Circle.
The open network, meaning prepaid debit cards in partnership with RuPay and Yes Bank, was launched mid-April. In 50 days, it has scaled to 50,000 customers, Gupta told TechCircle.
The cards are price at Rs 200 for three years' validity, with the company currently building new variants priced at Rs 500 and Rs 1,000. Gupta said YPay cards are expected to scale up to 600,000 users by the end of 2021. Currently about Rs 70 crore is being spent using YPay monthly. YPay's distinction is its card can be used for ATM withdrawals, a function parents can choose to enable, preferably for kids aged 14 and above. Having raised another Rs 1 crore from We Founder Circle and other angel invesors in June 2021, the startup is now in talks to raise a Series A round of funding of $3 million in the next two-three months.
Other companies in the building fintech for kids in India include Visa networked Walrus, a Y Combinator-backed company, and Yodaa, a product of Singapore-based Atlantis.
But do these apps help teenagers better financial planners?
"In school, the financial knowledge of compound interest and all that is just limited to the formulas. It's very limited. We are not that much exposed towards it in school. After installing FamPay, I got to know a lot of things like interest and budgeting. If you have your own account, then of course, you will start saving and all that stuff. So it really helps me a lot to enhance my personal finance," says Pranjal. He points out that his savings have been increased because there are many rewards on saving too. "I save around Rs 500 to Rs 600 per month...If we start counting cashbacks now then it is more. Till now I have more than Rs 1,000 in cashbacks," he adds.
"You have to learn to be smart because you have a set amount of money--you have a cap," Dhruv corroborates. "I know my parents will give me money only once a month or something. then I know I have to spend it smartly when I'm going to be at a friend's house and probably, we order in. Accordingly, I'll have my money to spare it for that. If there's like a random purchase to make and it's not really necessary, then I probably won't do that... before whenever I needed something, I would have to go to my parents because with a set amount of money if they give me Rs 500 then I'll probably spend it really quickly," he adds.
Pranjal, too, has also become very money savvy. He now asks his parents that instead of using their credit cards, "they can transfer the amount to me, and I can buy it using FamPay". He concludes, "They too have started trusting the app since I use it for day-to-day purchases. At shops, they see me scanning and paying quickly in two-three seconds. They have started believing this is a cool thing."
---