Zoom partners with Oculus to enable meetings on VR headsets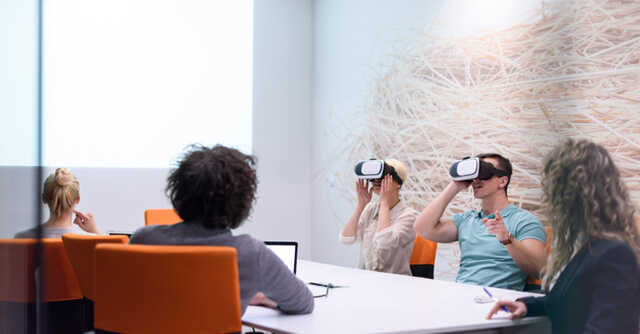 Video conferencing giant Zoom has announced a partnership with Facebook's Oculus to enable virtual reality (VR) meetings in the near future.
The San Jose, California based company revealed the engagement at the Zoomtopia 2021 conference on Monday. The partnership, it said, will allow users to access Zoom Meetings within the virtual Oculus Horizons Workrooms environment.
Announced a month ago in open beta, Horizon Workrooms is Facebook's dedicated VR app to let Oculus headset users come together as digital avatars in the same VR space for meetings. With Zoom integration, anticipated next year, the platform's ability to bring digital avatars together and let them interact will get a big push.

Moreover, the partnership will also enable users to connect Zoom Whiteboard to Workrooms and collaborate/draw in virtual reality. Currently, the whiteboard can only be accessed during meetings, but Zoom has confirmed that it will available as a separate product in Zoom apps and the web.
Both capabilities will further Facebook's vision to transition from being a social media company to being a metaverse company.
Facebook CEO, Mark Zuckerberg had recently informed investors that the company is working on a Metaverse project. This aims to build virtual worlds akin to those seen in science fiction movies like Ready Play One. In an interview with The Verge, Zuckerberg discussed how the project could enable VR interactions for meetings. "You can think about the metaverse as an embodied internet, where instead of just viewing content — you are in it. And you feel present with other people as if you were in other places, having different experiences that you couldn't necessarily do on a 2D app or webpage, like dancing, for example, or different types of fitness," he said.

Among other notable improvements, Zoom announced live translation and an improved transcription service. The real-time transcription feature will work for free customers across as many as 30 languages while the translation offering will be available to paid customers across 12 languages. Both will be available next year.
The company is also working on a widget to get a quick glance at upcoming meetings; a cloud-based Video Engagement Center to connect customers with end customers over video; an improved smart gallery; phone video voicemail; and a bring your own key (BYOK) function to empower customers to provision and manage their own encryption keys.
Plus, it will also launch Zoom Events Conference, a new event type that will allow hosts to organize multi-track and multi-day events in a sophisticated format, with rich functionality, including, event lobby, chat, networking, sponsors, surveys, recordings, analytics, and more.

"We have released hundreds of new features, enhancements, and capabilities this past year alone and we have exciting new features in our development pipeline," Eric S. Yuan, founder and CEO at Zoom, said.
"With the ability to visually brainstorm on a virtual whiteboard and collaborate with colleagues similar to an in-person experience, or the endless opportunities of live transcription and translation services powered by Artificial Intelligence (AI) – previously considered 'futuristic' technologies are on the verge of becoming a reality, and could reshape the way we work," he added.
---