Govt announces PLI-scheme for local manufacture of drone, components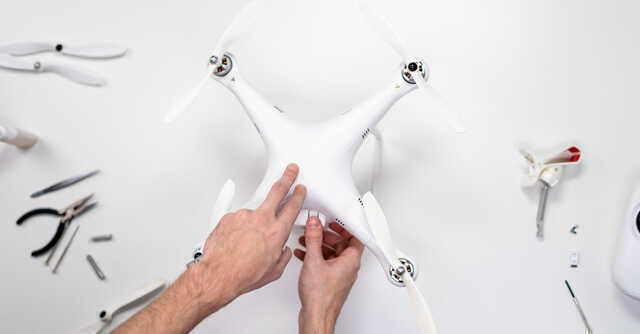 On Wednesday, the government announced a production-linked-incentive (PLI) scheme for manufacturing drones and drone components in the country. The original PLI scheme has been tenured for three years starting with FY 2021-22. The scheme will be redrafted or extended based on the impact.
The total amount allotted for the PLI scheme is Rs 120 crore spread over the period of three years.
At a briefing by union cabinet ministers Anurag Thakur and Ashwini Vaishnaw, the government announced that the scheme will offer an incentive of 20% of the value addition made by these manufacturers.
The drone revolution continues to unfold at a speedy momentum, thanks to the sustained focus, push & quick action by PM Sh @narendramodi ji.I thank him, along with Union Finance Minister, Smt @nsitharaman Ji for approving a 120-crore PLI Scheme for Drones &Drone Components. 1/3

— Jyotiraditya M. Scindia (@JM_Scindia) September 15, 2021

The government expects the incentive to bring in fresh investments of Rs 5000 crore over the three years and an incremental production of over Rs 1500 crore. It also expects the sector to generate 10,000 direct jobs in the three-year period, apart from growing the annual sales turnover of the drone manufacturing industry from Rs 60 crore in FY 2020-21 to Rs 900 crore in FY 2023-24.
The PLI scheme and the new drone rules announced in August are intended to catalyze super-normal growth in the upcoming drone sector, said the Ministry of Civil Aviation in the statement issued to announce the scheme.
The eligibility criteria for MSME and startups to avail of the benefits of the scheme has been fixed at annual sales turnover of Rs 2 crore for drone manufacturers and Rs 50 lakh for manufacturers of drone components. The threshold is at Rs 4 crore and Rs 1 crore sales turnover per annum respectively, for non-MSME beneficiaries.

The government had also announced a liberalized version of Drone Rules 2021 in August. According to the rules, the types of fee charged to the drone operators were reduced from 72 to 4, while the number of forms required to be filled to operate drones were reduced to 5 instead of 25. The rules also exempt approvals for operating drones including unique authorization number, unique prototype identification number, certificate of manufacturing and airworthiness, certificate of maintenance, among many others.
The rules have also done away with remote pilot license requirement for flying micro-drones for non-commercial purposes and for flying nano drones. The rules also put no restrictions on drone operations by foreign-owned companies registered in India.
---