How an Indian airport used IoT, facial biometrics to manage 1.09 crore passengers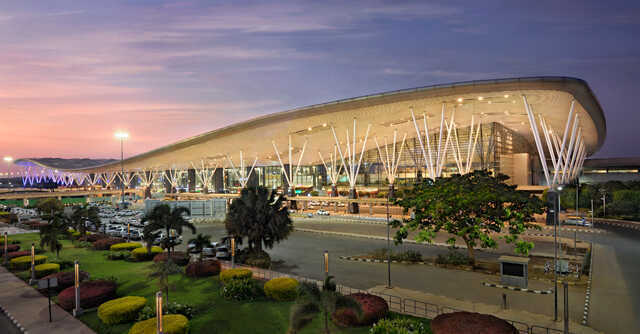 Spread over 4,000 acres, Bengaluru International Airport Ltd. (BIAL) handled about 1.09 crore passengers in the period between April 2020 and March 2021, according to the Airport Authority of India.
The airport has to be on its toes to ensure the safety and security of passengers and the tons of cargo that are transported on a daily basis. BIAL, hence, uses technology to better efficiencies, handle traffic better and improve overall operations.
In an interview with TechCircle, Satyaki Raghunath, the Chief Strategy and Development Officer for BIAL, explains how analytics, biometrics, IoT and other technologies are being utilized in passenger flights and cargo transport within the airport. Edited excerpts:

Earlier this year, BIAL was building a Business Analytics and Data Intelligence Platform providing a singular view of the customer, including details of operations, commercials and financials. How is this solution impacting operations today?
The Business Analytics and Data Intelligence platform, which underpins all our other platforms help in bringing together all data pertaining to operations, commercial, and other departments including finance, HR, strategy and the aviation business and analyses it to provide a clear overview of what is happening, thereby helping in better business decisions.
With this we will be able to better understand passenger needs and provide meaningful interventions in their journey through the airport, and better plan resources with advance information and insights from various data sources to ensure that we are prepared to address any situation in our day-to-day operations.

In the longer-term, we expect to have much more accurate data leading to insights that enable us to take operational and commercial decisions.
What's the progress you have made with the biometric platform DigiYatra? Have you added new features?
Ours was the first Airport in India to introduce a facial biometric technology to enable paperless airport travel. This involved the Phase 1 rollout of DigiYatra as part of a wider rollout at over 365 touchpoints in Terminal 1. This will cover the entire passenger experience from kerb side to boarding. Two airlines – Vistara and Air Asia India – have been onboarded on the platform, and we are working to onboard the other major domestic airlines.

In parallel, the DigiYatra Central Identity Management Platform (DYCIMP) is also being developed by the Government of India. We expect that the DYCIMP will be ready in 2022. All domestic flights will be incorporated, and then international flights will be onboarded in the next phase.
In the foreseeable future, the DigiYatra enrolment process will be rolled out with the ability for passengers to enroll using a 'selfie' and a digital ID validation through the passenger's smartphone. BIAL is now working to integrate other airlines operating at the airport into DigiYatra. Once the system stabilises across T1, we will focus on the roll-out in T2.
What other project deployments are currently in the pipeline?

We are in the second phase of development of the four platforms and will also be rolling out an IoT-based platform to utilise our assets better with respect to energy monitoring, performance and asset optimisation. Given some of the COVID-related challenges and based on the recent tariff order from the Airport Economic Regulatory Authority on the airline and passenger charges, we will evaluate our investment in other initiatives going forward. In the short to medium-term we are looking at various initiatives, which focus on efficiency, commercial performance and customer experience.
In terms of shipment of cargos, what are the different ways by which BIAL has introduced digital solutions to better processes?
We work with our cargo partners to continuously improve our operational efficiency. Some of our recent tech interventions in Cargo include the Airport Cargo Community System (ACS), which is a digital platform that has made the shipping process simpler, eliminating paperwork, enabling faster processing of transactions, reducing duplication of information and streamlining processes.

We also have an IoT solution, which is expected to benefit the pharmaceutical industry, as well as perishable supplies. The technology will provide shippers and carriers real-time temperature data of the shipment from the time it leaves the warehouse to the point it is loaded onto an aircraft at BLR Airport.
Our envirotainer is an electronic container that enables pharmaceutical companies and their logistics partners to move temperature-sensitive cargo across the world, while maintaining the integrity and quality of products throughout the journey. This essentially means that the temperature is maintained throughout to create an unbroken cold chain from manufacturing to the point of consumption.
How crucial are cold–chain cargos to overall cargo operations at BIAL?

End-to-end visibility has become a prerequisite for any supply chain. To this effect, we introduced IoT solution to further improve the cold-chain shipment at BLR Airport.
An IoT-based solution --TAG-BOX -- has enabled live monitoring of temperature-sensitive products. It provides agents with real time temperature data of shipments at every step of the journey. This helps them to monitor end-to-end health of the products via web or mobile and take appropriate interventions. The temperature data gathered from sensors can be used to create valuable insights on efficient operations and resource management leading to improved customer service. Temperature can be monitored on a secure web/mobile-based platform by all stakeholders in the cold chain.
Which industries are likely to benefit from the cold-chain cargo initiatives?
The solution will immensely benefit the pharmaceutical and perishable food industry in and around Bengaluru. Perishable commodities and pharmaceutical products have been amongst the major growth drivers for Bengaluru airport in the past two years, accounting for 12% and 13%, respectively, of the total international cargo throughput.
---