Hexagon Manufacturing Intelligence to setup 7 agri-innovation hubs in Karnataka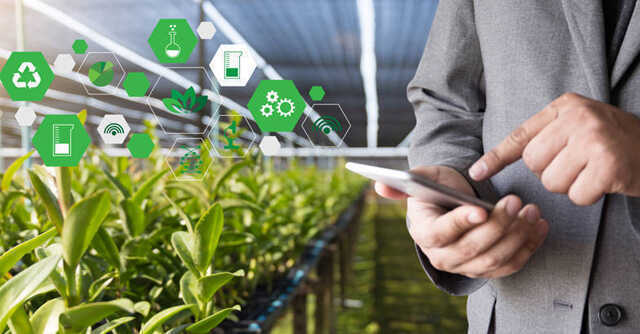 The Government of Karnataka has entered into a partnership with Hexagon Manufacturing Intelligence, a metrology and manufacturing solutions provider, to build seven centers for innovation and development in the area of smart agriculture.
The innovation centres will be built together by the Karnataka Department of Agriculture and Hexagon's manufacturing intelligence division.
The 7 labs are expected to help farmers, agriculturists, entrepreneurs and students in agricultural universities with skills, modern farming techniques and engineering technologies.
Apart from acting as an incubation center for agri-startups, the areas of focus will be on precision agriculture, automation in agriculture, agronomy services (the science of using plants to benefit the economy as a whole) farm equipment design, drone technologies and other innovative practices.

The cost of building these seven centers in four agricultural universities in Karnataka is estimated at about Rs.770 crores. Hexagon Manufacturing Intelligence will pump in 85% of this investment.
It is well known that more than half of India's population engages in agriculture as the primary source of livelihood. The country's share of agriculture and allied sectors in gross value added (GVA) was at 18% in the 2020 fiscal.
But there are constant challenges in the sector, including poor production management, labour shortages, lack of a robust infrastructure and lack of entrepreneurship. Other glaring issues are related to natural phenomena such as uneven rainfall, natural calamities, and man-made issues such as high-pesticide residues.

Many farmers also lack basic knowledge of agricultural technologies and are not tech-savvy, a hindrance that is detrimental to the growth of the sector. Among the urban populous, an education in agriculture in education is also not sought after, especially in engineering.
Hexagon Manufacturing Intelligence, founded in 2001, provide solutions that help convert data into actionable information for efficient field operations, precision agriculture and automated workflows. With the Karnataka government, Hexagon said that it will develop courses in various topics, as well as a few "Train the trainer" programs, along with plans to maintain industry and village cooperation.
---