Self-driving cars may ferry people across Vegas through tunnels someday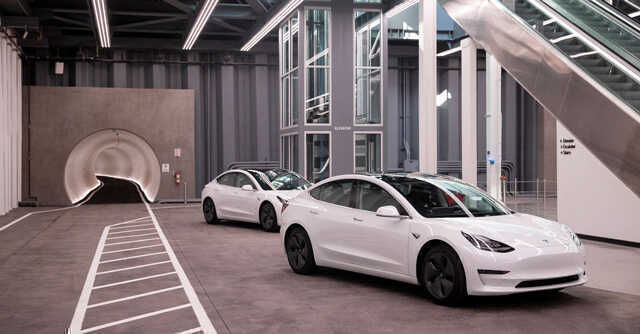 Billionaire Elon Musk's Boring Company has acquired permissions to build a network of tunnels underneath the city of Las Vegas in the US, which will be used to ferry passengers around the city. The tunnels will be used to take passengers from hotel casinos, the Las Vegas Convention Center (LVCC), the airport, its football stadium and more. The Boring Company was formed as a subsidiary of Musk's SpaceX and became an independent firm in 2018.
Musk originally showcased the idea at a Ted conference in 2017. At the time, he imagined having cars descend into an underground tunnel system in order to avoid traffic. In a video, Musk showed a concept where cars travelling on regular roads find a platform that takes them to a tunnel underneath. They make the rest of the trip through these tunnels.
Expanding and moving forward with plans for the "Vegas Loop." #ClarkCounty Commissioners just approved an agreement with the @boringcompany to establish and maintain a transportation system that will go under the Las Vegas Strip. It will also go to @AllegiantStadm and @UNLV. pic.twitter.com/2ju3xcFq7O

— Clark County Nevada (@ClarkCountyNV) October 20, 2021
While the Boring Company has been using Tesla's to ferry passengers right now, the eventual idea is to have only autonomous cars drive passengers around. In the absence of regular traffic, cars can avoid typical road conditions and drive in safer conditions.

At the moment, the Boring Company operates a smaller version of its tunnels underneath the Last Vegas Convention Center. It has two 0.8 mile tunnels, but had proposed a citywide expansion called the "Vegas Loop", which will be able to ferry 57000 passengers per hour. The company got its first $48.6 million contract from the city of Vegas back in 2019.
According to the Boring Company's website, a 4.9 mile trip between Mccaran Airport and the Las Vegas Convention Center will take 5 minutes and will cost $10. Similarly, the 3.6 mile ride between the LVCC and Vegas' football stadium will take 4 minutes and will cost $6. According to Taxi Fare Finder, a trip from the airport to LVCC costs almost $21 right now.
---