Cisco announces host of new Webex solutions for enterprises, events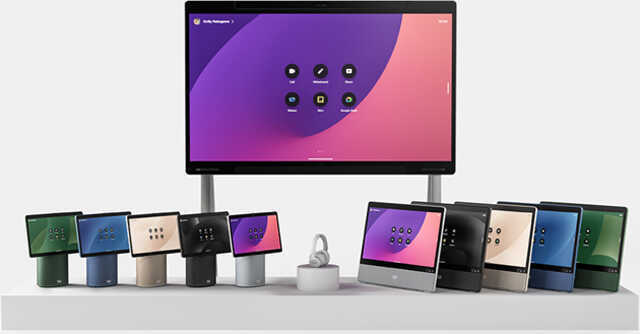 Networking giant Cisco, today, unveiled a host of new features and solutions for its enterprise video calling solution Webex. These include new artificial intelligence (AI) driven features, software for driving team engagement in a hybrid work environment, and even hardware devices built around the Webex platform. Cisco is also claiming that webex will maintain interoperability with its competitors Zoom, Microsoft Teams and Google Meet.
The video communications market got a major boost after the pandemic-enforced lockdowns of last year. Platforms like Microsoft Teams, Zoom, Google Meet and Webex gained millions of new users almost overnight, with the industry estimated to be worth over $6 billion, according to some estimates. In some sense, Cisco's new solutions bring Webex upto speed with three top competitors, mentioned above.
AI powered audio and video

First, the company said Webex will now use AI to "optimize for all voices" during a meeting. The feature seeks to equalize the voices from all participants irrespective of their distance from their laptops, or any other device being used for a meeting. It will also help differentiate background noise from a person's speech, a feature that Zoom, Teams and Meet have had for almost a year now.
AI will also be used to enhance video quality on Webex going forward. A new "People Focus" feature, which will be available in December, is meant to enhance video clarity, understand facial gestures and body language. The company said that the feature will be expanded in 2022, including a feature which puts participants from conference rooms in individual boxes, irrespective of which meeting service they use.
New Webex devices

In perhaps the biggest effort at matching competitors like Google, Zoom, Microsoft and even Facebook, Cisco announced three new Webex devices. This includes the Webex Desk Mini and the Webex Desk speakers, which integrate the Webex application directly into a smart speakers with built-in screens.
The Webex Desk Mini has a 15.6-inch 1080p display with a 64-degree HD camera and background noise removal mics. The Webex Desk has a 24-inch display, and the two speakers will be sold in the US from early next year starting at $995 and $1249, respectively. While Google's Meet works on the company's Nest smart speakers, Zoom works on virtually every smart speaker now, including its own Zoom for Home devices.
On the other hand, Webex is also taking on Microsoft's whiteboard functionality in Teams, a digital whiteboard designed for enterprise work collaboration. A new Whiteboarding tool will allow Webex users to find, edit and share whiteboards with anyone. It will work on smartphones, laptops, tablets and any other touch-enabled Webex devices, including the Cisco Webex Board Pro, a device similar to Microsoft's Surface Hub.

The Webex Board Pro has dual 4K cameras, supports directional audio and two active styluses. It comes in 55 inch and 75 inch screen sizes and will start shipping later this month in the US, starting at $8995 and $14995, respectively.
Events on Webex
For scaling hybrid events, Cisco announced a bunch of partnerships that will be part of its Webex Events portfolio. "Hybrid event management capabilities, including badging and printing for ticketing, monetization and networking are now available. Customers can host up to 10K attendees in webinar mode and 100K in webcast mode via Webex Webinars. Integration of Slido's polling, quizzing and Q&A technology in Webex Events increases attendee interactivity and engagement," the company said.

Tackling burnout with Webex
Webex might be a feature used predominantly by always working enterprise executives, but Cisco says it has added features that will keep these executives from burning out. A new Collaboration Insights feature allows teams to keep track of top 10 people in a company using the tool on a weekly basis, locations of various colleagues and their titles. It will also provide an anonymous view of work time patterns, sentiment ratings and focus time goals, which seem like features that HR departments will understand better than most others. "A manager, for example, can see a spike in team members working late in the evening and low rankings, and proactively address how to alleviate this," the company said in a press release.
Further, Webex Suite users will get access to a feature called Thrive Reset, which Cisco claims is based on research that shows it takes 60-90 seconds to "course-correct from stress". It includes a collection of wellness topics, ways to upload personal photos and more. The company will also integrate Vidcast.io on beta right now, which allows users to send standalone video messages on demand without needing to get on a meeting. Full integration of Vidcast is projected for 2022.

---