Qualcomm Snapdragon Spaces wants to make AR and XR apps mainstream, easy to build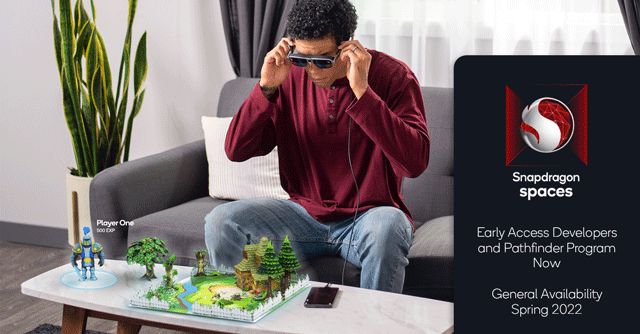 Qualcomm has announced a mixed reality developer platform Snapdragon Spaces at the Augmented World Expo 2021. In its own words, Snapdragon Spaces will "c​reate headworn AR (augmented reality) experiences that adapt to the spaces around us."
In other words, it sees a future where AR and mixed reality (XR) becomes mainstream, and in order to cash in on that, wants to establish an easy to use platform for developers to build their AR/XR apps on.
Claiming a "developer-first approach", Qualcomm says that Snapdragon Spaces will be an "open ecosystem" for developers and companies to work on mainstream applications for spatial computing.

In a teaser video that the company showcased to introduce the platform, it shows various applications such as spatial mapping, virtual anchors (or the floating screens that you've seen Tony Stark use everywhere), position and hand tracking of users, surface detection, image and object recognition, object tracking, adapting to scenes, spaces and setups, and gaming too.
Such use cases, Qualcomm says, can be built using Snapdragon Spaces to create apps for headworn AR/XR gear. It expects the use of such headgear to become mainstream, and to further make its case, has announced a partnership with Niantic to create real-world 'metaverse' apps for the latter's Lightship platform.
It has also announced a bunch of OEM partners, which include Lenovo, Motorola, Oppo and Xiaomi. Of these, Lenovo has already announced an XR glass, called Lenovo ThinkReality A3, which is based on a Qualcomm reference design – and will apparently be the one to take Snapdragon Spaces to the mainstream market for developers.

Qualcomm has further claimed that its platform is "hardware agnostic", which essentially means that Snapdragon Spaces can scale AR apps for a wide variety of platforms – including nominal AR glasses to more heavy duty, full-featured headsets.
The platform also supports mainstream developer tools for graphic apps such as Unity and Unreal Engine 4, and access for it is already rolling out to some major developers right now.
Qualcomm says that to bolster Snapdragon Spaces, it has also acquired hand and gesture recognition and tracking specialist HINS SAS, as well as Wikitude – a "world class AR technology provider."

The company has further confirmed that it will be rolled out to more developers next year, which is also when the Lenovo headset will be launched for users.
---