Women professionals want to take on more responsibilities and play a larger role in Make in India, says a new GE and Avtar research report, highlighting that around 84.4% of male respondents believed that operations, manufacturing and engineering services sectors would benefit significantly from employing more women.
The finding released at GE's BELONG 2021 conclave point to the readiness for women's participation in Indian sectors that currently employ an estimated 27.3 million people in 2,70,000 large, medium and small companies. According to Avtar, these sectors have only 12 percent women today.
"We commissioned this study to create better understanding of the gender-specific challenges and opportunities in the areas of operations, manufacturing, and engineering project management. We run 15 factories in the country today. Approximately 15,000 of our employees work in these areas.
Our gender diversity percentage across different teams varies from 10 to 30 per cent and we felt we needed a more systematic approach to improving gender diversity uniformly," said Mahesh Palashikar, President, GE South Asia.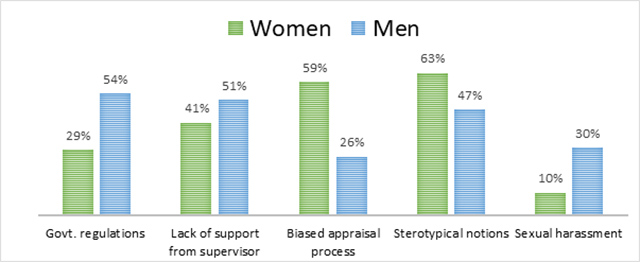 The study titled 'An exploratory study on Women's employment in Operations, Manufacturing and Engineering Services in India,' aims to help corporate organisations, policy makers and educational institutions formulate conducive policies and practices to help gender inclusion in these core sectors of the economy.
"GE has a strong focus on improving all diversity – gender, sexual orientation, abilities. This study provides us and our peer companies specific directions to improve gender diversity in operations, manufacturing and engineering project management," said Sukla Chandra, I&D Council Leader, GE South Asia.
---