Telecom operator Bharti Airtel today announced tariff hikes for its prepaid offerings with effect from November 26. While, the minimum tariffed voice plan will now be offered at Rs 99 against the current Rs 79, the maximum has been fixed at Rs 2,999.
Airtel has always maintained that the mobile Average Revenue Per User (ARPU) needs to be at Rs 200 and ultimately at Rs 300, so as to provide a reasonable return on capital that allows for a financially healthy business model, the telecom service provider said in a statement.
"We also believe that this level of ARPU will enable the substantial investments required in networks and spectrum. Even more important, this will give Airtel the elbow room to roll out 5G in India," it added.
According to the revised tariffs, the least packaged offering of Rs 79 is now offered at Rs 99, while the priciest one of Rs 2,498 will be offered at Rs 2,999.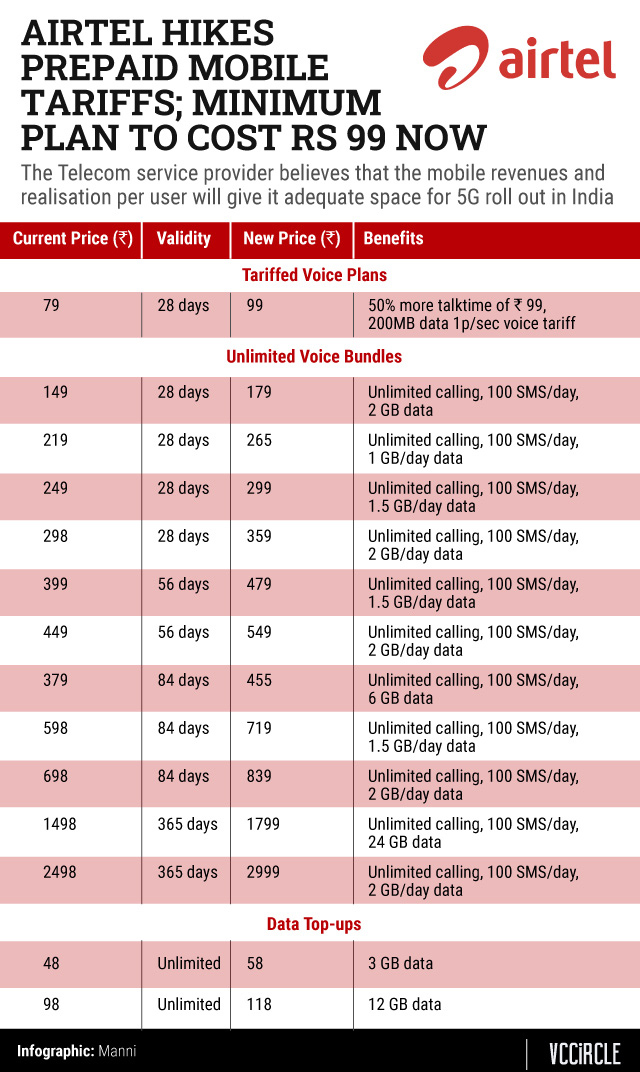 The data top ups have also gone for an upward price revision in the packages of Rs 48 and Rs 98 to Rs 58 and Rs 118 respectively. However, the company has retained the validity period of all the offerings.
---