The Cryptocurrency and Regulation of Official Digital Currency Bill, 2021 is set to be introduced in the near future. While the Bill will bring in key legislations to regulate cryptocurrencies in India, plenty of questions remain regarding the exact postulates of the Bill. Nirmala Sitharaman, Union Finance Minister (FM), has given a number of cues in terms of what to expect of it – giving investors, exchange operators and other stakeholders in the blockchain and cryptocurrency space an idea of what to expect from the Bill.
On this note, TechCircle takes a look at the entire timeline of discussions that track the evolution of cryptocurrencies in India – from a niche area of interest to a mainstream tool of discussion.
*Note: The most recent incident on crypto regulation appears as the latest below.
December, 2021: Sebi, FM's 'global' push and MeitY on blockchain
The impending crypto Bill was reported to not be the government's ultimatum to ban public cryptocurrency consumption. However, it has been reported that the proposed law will treat cryptocurrencies as 'crypto assets' in India, and bring the same under control of the Securities and Exchange Board of India (Sebi). The move will be an effort from the Indian government to separate 'private' cryptocurrencies such as Bitcoin and Ether from its upcoming 'official' cryptocurrency – to be issued by the Reserve Bank of India (RBI).
Speaking at the Infinity Forum on 3 December, FM Sitharaman stated that due to the ever-changing nature of technology, countries should look for global synergy in regulating new technologies such as cryptocurrencies. She called for "independent regulators", who can help setup a "global mechanism" for legally controlling new technologies.
On the same day, the Ministry of Electronics and Information Technology (MeitY) also published a 52-page document titled 'National Strategy on Blockchain'. The document highlights ways in which the Indian government may use blockchain, the underlying technology behind cryptocurrencies, for building official digital platforms.
30 November, 2021: FM on new bill, no call on NFTs
Answering questions at a Parliament session on the upcoming crypto Bill, FM Sitharaman stated that there was a bill that was readied on cryptocurrencies earlier. However, the same was not put into effect to account for newer aspects of the sector. The new Bill, Sitharaman said in Parliament, has taken cues from the older one, and has been revamped after deliberation.
She also stated that the government is presently not exploring a separate law to regulate non-fungible tokens (NFTs) in India. Furthermore, she also clarified that with regards to "misleading" crypto ads, the government was looking into guidelines laid down by the Advertisement Standards Council of India (ASCI) to restrict misguided claims by private crypto exchanges in the country.
29 November, 2021: RBI's official cryptocurrency
The central finance ministry of India confirmed that the RBI is working on its own digital currency, the central bank digital currency (CBDC). Request to include a digital currency within the definition of a 'bank note' set down in the RBI Act, 1934 was received in October 2021 to account for digital currencies "with little or no disruption," the finance ministry informed the Lok Sabha in a written reply to queries received on the subject.
November 30, 2021: Nirmala Sitharaman clarifies how crypto firms are taxed in the Parliament
At the parliament session on November 30, answering on how crypto companies are being taxed in India, Sitharaman said, "The income earned by crypto exchanges and other crypto service providing platforms is liable to tax under the head Business or Profession under Chapter-IV of the Income-tax Act, 1961. Applicability of tax rate will depend on status and category of taxpayer." However, she also said that she does not have readily available information on how much tax has so far been collected from crypto investors in India.
November 2021: Reports of approaching bill
On November 23, the agenda posted for the Parliament's winter session confirmed the government of India is set to table its cryptocurrency bill during the session, which begins on November 29. The agenda suggested that the bill would ban the use of "private cryptocurrencies". It was the same text posted in the agenda for the February-March session of the Parliament.
According to recent data, India reportedly has over 1.5 crore KYC (know your customer) approved users in the cryptocurrency space, holding over $6 billion in crypto assets.
May 2021: 'Informal' RBI diktat
In May this year, various cryptocurrency industry stakeholders approached the Supreme Court of India (SC) claiming that Indian banks were still citing the 2018 circular from the Reserve Bank of India (RBI) to discourage customers from making crypto investments. In response, the RBI had stated that its 2018 circular was truly void after a 2020 SC ruling, and therefore, could not be cited to consumers.
However, the RBI continued to urge banks to conduct "due diligence" under policies of money laundering and terrorism. However, the move from the banks came close on the heels of an informal note from the RBI that directed banks and financial institutions under its purview to avoid doing business with crypto businesses. For a short while, banks had withdrawn their services from many of these companies, which forced crypto exchanges to stop taking deposits in Indian Rupee.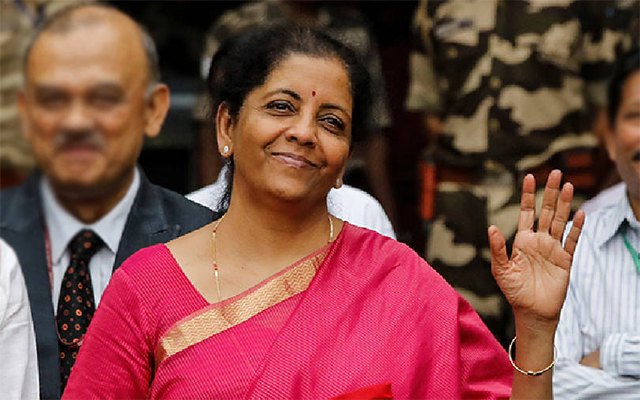 Finance Minister Nirmala Sitharaman
March 2021: Nirmala Sitharaman statement
In March 2021, Finance Minister Nirmala Sitharaman notably stated that the government would not be "shutting all options" with regards to cryptocurrencies and their underlying technologies. "​​We will allow certain windows for people to do experiments on blockchain, bitcoins or cryptocurrency," she said.
Sitharaman also clarified that a policy on blockchain technology was being worked on, tying into reports of a centrally regulated digital currency under the RBI to be in works. The latter is going to be a Central Bank Digital Currency (CBDC), which is essentially a digital version of the rupee.
In July, ahead of the Monsoon session of the Parliament, Sitharaman had said that a draft of the crypto bill had been submitted to the cabinet, and that the government would take a "calibrated" approach towards cryptocurrencies.
March 2020: Supreme Court of India judgement
While the RBI circular did prohibit crypto investments in India, the SC on March 4, 2020 stated that there was no law that declared cryptocurrencies as illegal investments in the country. The case was labelled Internet and Mobile Association of India (IAMAI) vs RBI, and its verdict can be read here.
The ruling came after appeals from Indian crypto exchanges and other stakeholders, which also highlighted the absence of a regulatory law with regards to cryptocurrencies. The ruling, therefore, stated that until a law is adopted by the government, such an order may be deemed unfair.
2018: RBI circular
The April 2018 RBI circular was the first in India to 'ban' or prohibit investments in cryptocurrencies. The circular stated, "Entities regulated by the Reserve Bank shall not deal in virtual currencies or provide services for facilitating any person or entity in dealing with or settling cryptocurrencies."
The circular further specified a range of use cases that it prohibited Indian banks from offering to services that facilitated cryptocurrency investments. The move essentially barred banks from allowing users to make payments towards purchasing cryptocurrencies in India, citing which various banks in the country withdrew support for a number of crypto exchanges here.
Earlier RBI circulars
The RBI's earliest statements against the use of 'virtual currencies' can be spotted in this circular dated December 24, 2013. In the circular, India's central bank had warned users against "financial, operational, legal, customer protection and security related risks" that it thought owners of cryptocurrencies could be exposed to.
The bank had subsequently published two more circulars issuing similar warnings discouraging investments in cryptocurrencies – in February and December 2017. However, each of these three circulars served as general warnings to consumers and the industry.
---