Drone maker TechEagle bullish on India's push for commercial drone delivery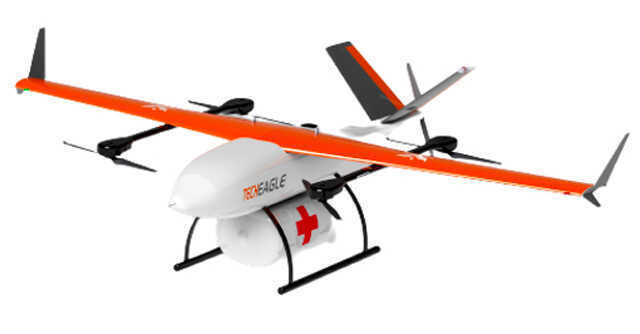 Ever since its inception seven years ago, TechEagle has been part of a number of pilot drone delivery trials across India. The startup recently conducted medicine delivery in association with the state government of Meghalaya, reducing the transit time in this delivery from four hours to 25 minutes.
Earlier this year, TechEagle also struck a collaboration with the Telangana state government, Niti Aayog and World Economic Forum to conduct medicines and cold-chain vaccine deliveries using drones.
Spurred by these successes, Vikram Singh Meena, founder and chief executive of Indian drone manufacturing and delivery services startup TechEagle, believes 2022 will be the year when commercial drone deliveries in India will really begin to take off. "We are targeting Rs 2 crore as annual revenue, which will help us apply for the production-linked incentive (PLI) benefits afforded by the Indian government in this sector," Meena said in an interaction.

Earlier this year, the government of India announced a Rs 120 crore PLI offering to companies manufacturing drones, drone components and drone software. The incentive will be at a fixed 20 percent of the value added by the manufacturers across three years, with manufacturers mandated to make at least 40 percent in value (i.e. total sale minus expenses) to qualify for the PLI. Companies will also have to hit at least Rs 2 crore in annual revenue to accrue the benefits.
TechEagle manufactures its drones at its facility in Gurugram, Haryana. The company's latest product is called Aquila X2 – a hybrid electric vertical takeoff and landing (e-VTOL) unmanned aerial vehicle (UAV). The latter is termed 'hybrid' because it can take-off and land vertically, akin to a helicopter – and when in mid-air, can reconfigure its wing formation to fly like a conventional aircraft.
"In 2022, we will be expanding our delivery services to multiple other cities, where we will be using the Aquila X2 for commercial deliveries. We will begin most of our operations in the pharmaceutical sector itself, and have recently tied up with pharmaceutical company Jeena Criticare," Meena said.

He claims the cost at which TechEagle manufactures the Aquila X2 drone is about a third of what global entities incur for similar offerings. "Easier and cheaper availability of components is a key factor in more affordable drone manufacturing in India. Because of this, we are targeting Gulf nations to export the drones we make in India. We already have a deal signed for supplying drones in Ethiopia, which will become operational in 2022 as well," Meena claimed.
He added that his startup will be conducting hub to hub commercial drone deliveries in the pharmaceutical sector in 2022. "To scale up operations, we are also adding a new manufacturing facility to increase the number of drones we have in operation," Meena said.
However, according to Meena, while commercial hub-to-hub drone operations may become reality in 2022, a business-to-consumer (B2C) drone delivery model is still a distant dream.

"The Indian civic infrastructure is not ideal to conduct drone-based deliveries. We do not have courtyards or balconies uniformly across homes, which can enable a seamless drone delivery infrastructure. I do not see B2C drone deliveries happening at least until the end of 2023," Meena said.
According to Meena, fixed-route commercial drone deliveries are already possible in India. "Pre-declared drone delivery routes will not be dependent on the upcoming Digital Sky platform to become operational. Initial pharmaceutical drone deliveries in 2022 will operate at similar cost to the present logistics cost structure, but once we scale up, companies will have much greater operational efficiency," Meena concluded.
---