Machine learning and Python programming have emerged as the most sought after course taken up in India on open online course provider Coursera in 2021, the company said. The top courses taken by aspirants include Stanford University, University of Michigan, University of Pennsylvania, Yale University and Google, among others.
Foundations of data course by Google, English for Career Development by University of Pennsylvania and financial markets by Yale University completed the top 5 courses in India. Coursera, however, did not reveal the exact number of times these courses were taken by its users. The 7th, 8th and 9th positions were taken by courses involving mental health. These courses included one on learning mental tools, one on the Science of Wellbeing and another on the Introduction to Psychology.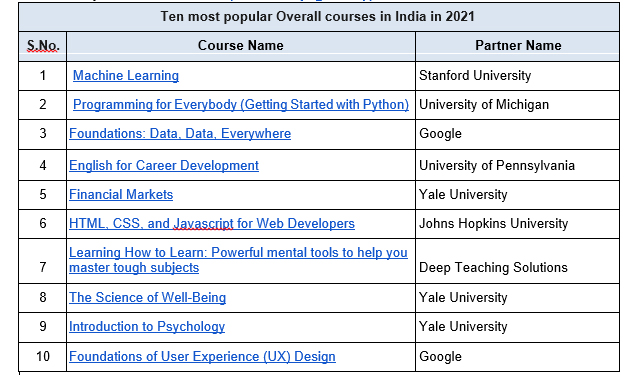 In terms of pure data science courses, 4 of the top ten were related to Machine Learning, while the rest were distributed between data analytics, neural networks, and other courses. Most of the data science courses were offered by Google, IBM and top global universities which included the likes of Stanford University and Duke University.
A 2020 study by the World Economic Forum showed that Artificial Intelligence and machine learning specialists, data analysts and data scientists were the most sought-after roles in the IT industry.
In an early November report this year, Coursera clocked 13.6 million users from India, which was behind the number of users in the US at 17.3 million users. "As of September 30, 2021, Coursera has 92 million registered learners on the platform globally, and 189 million enrolments, with India being the country with second-highest learners. Thousands of colleges and universities now offer Coursera to enrich their students' learning experience," the company said in an earlier statement.
In the past year alone, the company said that 20 million new learners have joined Coursera.
---