Flying taxis might sound far-fetched in India, but they may be a reality sooner than later. The ePlane Company (legally registered as Ubifly Technologies), a startup incubated at the Indian Institute of Technology (IIT), Madras in April 2017, claims that it is developing the world's most compact flying taxi, called the e200. Companies like Uber have spent billions overseas to develop such vehicles.
Founded by the institute's alumni, Pranjal Mehta and Professor Satya Chakravarthy, the Chennai-based startup aims to iron out the inefficiencies in cargo and passenger transportation in India and overseas. The homegrown entity has already test flown the lab scale prototype of the e200 last year and says it is on course to do a full scale prototype in April 2022.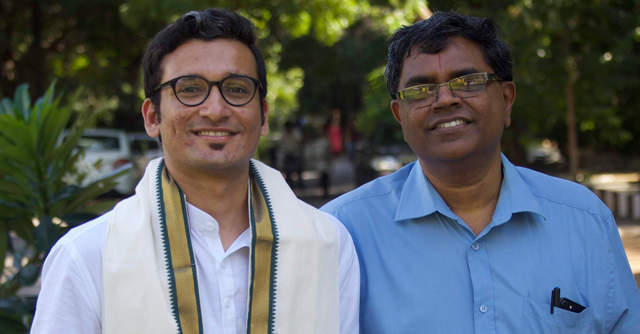 Pranjal Mehta (Left) and Satya Chakravarthy (Right), co-founders of The ePlane Company | Photo Credit: The ePlane Company
"We aim to build electric planes for intra-city transportation. The USP of our product is we are making the most compact flying taxi in the world. We are aiming for dimensions of 4 (metres) X 4 (metres). We want this vehicle to land on rooftops or helipads so that no dedicated infrastructure is required (for landing and take-off)," said Mehta, Co-Founder and Chief Executive Officer (CEO) of the company.
"The vehicle will take off vertically without the need for a runway. It will be 5-10 times faster in terms of travel time than on-ground vehicles at just 2X the price of Uber or Ola rides," he claimed.
The ePlane Company is positioning the flying taxi as a "crossover" between a drone and an aircraft. The aerial vehicle will be equipped with both wings (like a normal plane) and rotors (like a drone or helicopter) and will be available for both passenger and cargo variants. The intra-city two-seater will be powered by a lithium-ion battery, will have a top speed of 160 km per hour and traverse 200 km per charge. The cargo carrier is expected to be rolled out by February 2023, the passenger version is expected by December 2024.
To ensure its aerodynamic capabilities, the vehicle has a carbon fibre body, and the company said it's going to source several parts from India. Though E-Plane couldn't clarify where they will be sourced from.
According to Mehta, the average selling price of a similar vehicle in the international market would be $500,000 to $5 million. Though there are no players in this space in India, global firms like Joby, Archer, Urban Aeronautics, Skydrive, Volocopter, Ehang and so on have been working on similar technologies. The size of the market for such products is pegged at $1.5 trillion by 2030, Mehta said, citing a Morgan Stanley report.
"Our product costs will be the function of the market. Ease of operations and subsidies (like FAME-II) can create demand. High volume due to demand will drive down cost. Government should also invest or provide grants to these projects since there is immense export value," he added.
E-Plane is at very early stages of development though. The company said it is still "evaluating" whether to sell the taxi as a product or a service. However, Mehta said the company wants to partner with ride-hailing companies like Ola and Uber, and sell the flying taxi to airlines. He said early use cases would include time sensitive travel, like airport shuttles, air ambulances and more.
Further, Mehta said that the company has spent $850,000 out of the $1 million it raised as seed finding in March, and is planning to raise upto US$20 million in future. The entire amount will be deployed on research and development, certification, and setting up manufacturing plants in the next five years. It is looking at 10 aircraft in the early months of FY 2024-25 for carrying passengers, and will be ramping up production capacity to 1000 per year in the long term.
Further, ePlane is also looking to partner with players who are developing chargers for electric vehicles (EVs) in India. It wants to install smart chargers on top of buildings, which can charge the vehicle in 15 mins to an hour.
"We are looking to populate 4-5 major cities with 10 aircraft and clock 500-1000 trips per day, then go steady by deploying 500 aircraft per city and log 25-30,000 trips per day," said Chakravarty, who is also the co-founder and chief technology officer (CTO) of the company.
---