India's true wireless stereo (TWS) market, which recorded a shipment close to 8 million units in the third quarter of 2021, is expected to witness a further growth in the coming quarters despite the Covid-19 woes, said a new finding by Counterpoint Research.
TWS refers to the use of bluetooth wireless technology to deliver true stereo sound quality through earbuds.
Also read: Wearables, hearables makers ramp up local manufacturing amid boom
The research further said that battery life, sound clarity and voice quality are the top three factors that will be considered by the respondents for their next TWS purchase.
Counterpoint's report also said that the Rs 5,000 and above price band currently contributes 27% share to the overall TWS market and will have a stronger grip in future as about 40% of the surveyed respondents are planning purchase of their next device from the same price band.
About 60% of the current Indian TWS users mull to stick to TWS for their next hearable purchase.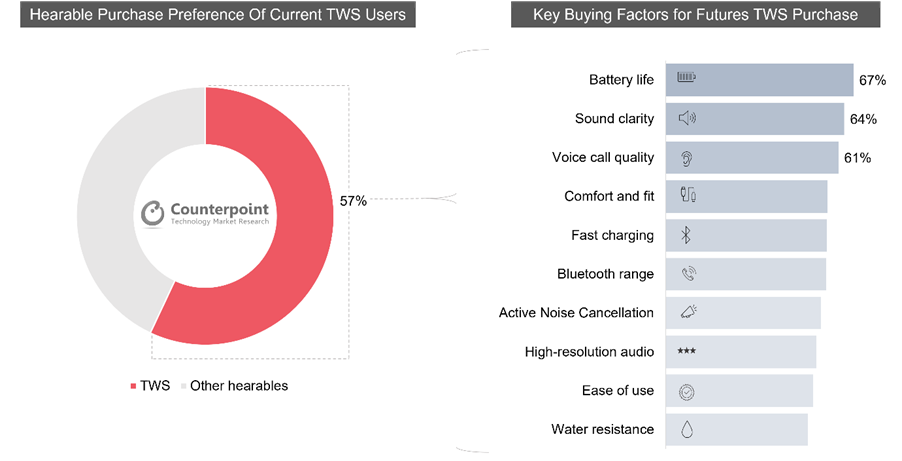 "TWS, despite being a newer technology in India, has a bigger list of market players and hence more options for the consumers. As a result, the market share is spread across many players," said Pavel Naiya, Senior Research Analyst at Counterpoint Research.
Meanwhile, boAt turns out be the consumers' most preferred brand for a future TWS purchase.
As per Counterpoint, 28% of its surveyed respondents currently using boAt TWS earbuds to nearly 60% of the respondents preferring it as their next purchase. It is followed by JBL, Samsung, OnePlus and Apple.
JBL's TWS devices also appear to be climbing up the ladder in market share – from less than 10% of respondents using JBL currently to more than 40% preferring it for the next purchase.
"boAt continues to be the top player. boAt TWS is the most preferred for its sound clarity, followed by battery life. Price always plays a key role in finalizing a purchase, especially in a segment that holds a lot of scope to expand and innovate," Naiya added.
The consumer survey conducted by Counterpoint Research's Market Lens Service predicts that 50% of the current TWS users in India plan to buy their next device in a year or less.
---