Amazon's Alexa and Cisco's WebEx are going to the moon on NASA's upcoming Artemis 1 mission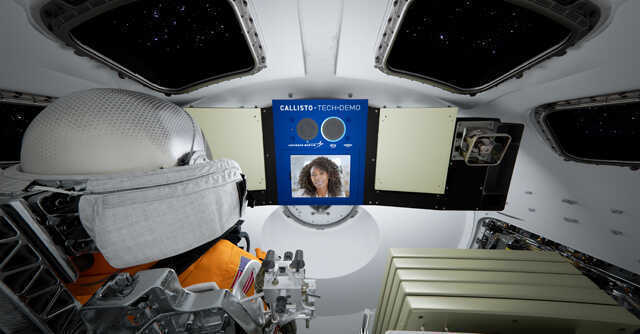 NASA's Orion spacecraft, which is set to take a trip around the moon later this year, will have no astronauts but it will take Amazon's voice assistant Alexa and Cisco's video conferencing software WebEx to the moon with it. The two software are part of a human-machine interface called Callisto, which will replace the control panel on the Orion spacecraft that will be used to carry out the mission.
The technology demonstration is part of NASA's Artemis 1 mission, which is expected to take place in the first quarter of the year. Artemis 1, in turn, is part of the overall Artemis mission that aims to put men and women on the moon. In NASA's own words, "With Artemis missions, NASA will land the first woman and first person of colour on the Moon, using innovative technologies to explore more of the lunar surface than ever before."
The company also promised to "collaborate with commercial and international partners" for the mission. To that effect, the Orion spacecraft is being built by aerospace and arms maker Lockheed Martin, and the Callisto console is part of a collaboration between Lockheed, Amazon and Cisco.

"Callisto will demonstrate a first-of-its-kind technology that could be used in the future to enable astronauts to be more self-reliant as they explore deep space," said Lisa Callahan, vice president and general manager of Commercial Civil Space for Lockheed Martin. The nomenclature for both the technology and the mission itself comes from Greek mythology — the goddess Artemis and her companion Callisto.

Amazon's Aaron Rubenson noted that the computer from science fiction series Star Trek was part of the original inspiration behind Alexa. The Callisto console, in essence, will use WebEx to transmit audio and video back to Earth for analysis and communication, while astronauts will presumably give commands to devices on the spacecraft using Alexa's voice interface.

The companies said that they have built a "virtual crew experience" at NASA's Johnson Space Center in Houston, Texas, which will be used to allow operators to interact with the spacecraft from the Mission Control Center on Earth. "There remote interactions will test and demonstrate how voice and video collaboration technologies can help astronauts improve effieicncy and situational awareness during their mission, providing access to flight status and telemetry, and the ability to control connected devices onboard Orion," the companies said.
"I can imagine a future where astronauts can access information on flight status and telemetry — such as spacecraft orientation, water supply levels or battery voltage status, through simple voice commands," said Howard Hu, deputy Orion program manager at NASA's Johnson Space Center. "Orion is already the most advanced spacecraft ever developed to carry astronauts to the Moon, and voice activation technology could take it to the next level by enabling the interactive computer systems of science fiction spaceships to become a reality for the next generation of explorers," he added.

Other than the research and engineering side of all this, Callisto also has a consumer use case. The companies said that it will allow "students, families, space enthusiasts and the general public" to "ride along" with the Artemis 1 mission. Which sounds like an extension of live imagery and videos that NASA already shares from the International Space Station (ISS) and other missions.
Not only that, users who have Alexa-enabled devices in their homes will be able to use commands like, "Alexa, take me to the moon", to see Artemis' progress live on their devices. WebEx's collaboration is also supposed to help provide Science, Technology, Engineering and Mathematics (STEM) education and remote classroom use-cases.
---