CES 2022: Here is how Google plans to improve product integration across platforms in 2022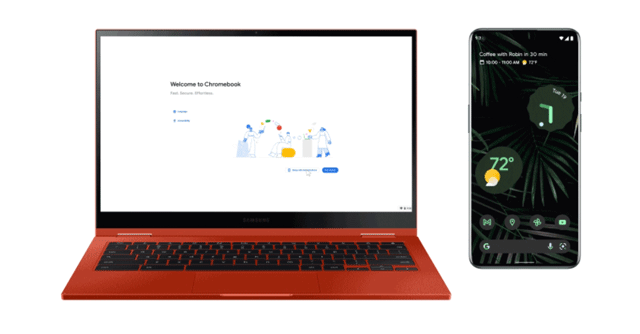 Google is emulating the Apple philosophy of making its various products and services work better with each other, under the "Better Together" project. At the Consumer Electronics Show (CES) 2022, the Alphabet company unveiled over a dozen new features that will roll out over the course of the year and will improve integration between Google devices such as Android devices, Chromebooks, earbuds and Wear OS-based smartwatches.
For instance, Chromebooks and smart TVs based on Android TV and Google TV will leverage Bluetooth Fast Pair technology and instantly pair with headphones or earbuds with a single click. Fast Pair technology has been around for years and is widely used for the quick pairing of Android devices with Bluetooth headphones. Similarly, Chromebooks, Android tablets or smartphones can be unlocked with smartwatches based on Wear OS. Currently, Chromebooks can be unlocked with Android smartphones. Also, Chromebook users will be able to access apps from Android smartphones, so they won't have to toggle between two devices to get things done.
Also read: CES 2022: Google, Amazon announce new partnerships to bring ambient computing to cars

While some of these features will reduce the time spent by users on setting up devices, some will focus on improving the customer experience by adjusting to their requirements more naturally. For instance, Bluetooth-enabled headphones will automatically switch the audio to the device that users want to listen to. Google explained, if a user is watching a movie on an Android tablet and gets a call on the Android smartphone, the movie will pause and the headphone audio will automatically connect to the Android phone for the call. Once the call is over, the headphone will switch back to the tablet.
In a bid to improve Android auto integration with Android smartphones, Google said users who have smartphones that support Ultra-Wideband (UWB) technology can use it as a car key to unlock, lock and start the car without taking the smartphone out of their pocket. Car owners will also be able to "securely and remotely" share digital car keys with friends and family.
Google doesn't want to limit these integrations to its products ecosystem and indicated that features such as Fast Pair to set up Bluetooth accessories, sync text messages and share files with Nearby Share will be available between Android and Windows devices too. The company is working with Acer, HP and Intel to bring these experiences to Windows devices sometime this year.

---