Drone-as-a-service will help collaboration, boost adoption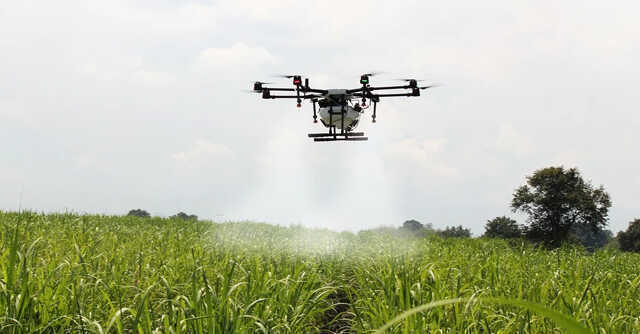 The government, in the Union Budget, has proposed that drones should be used to offer services to farmers such as crop assessment and spraying of insecticides and nutrients.
This Drones-As-A-Service (DRaaS) model is expected to help consolidate the fragmented drone industry in India and encourage stakeholders, including manufacturers and service providers, to collaborate with each other, industry executives said.
Finance Minister Nirmala Sitharaman christened this 'Drone Shakti', which can be loosely translated as 'power of drones'. "Startups will be promoted to facilitate 'Drone Shakti' through varied applications and for DrAAS. In select ITIs, in all states, the required courses for skilling will be started," she added.

"Drone Shakti is the government perspective on consolidating the efforts in the drone ecosystem. It is basically institutionalizing and creating a framework where multiple stakeholders can work together," said Smit Shah, president, Drone Federation of India.
According to Shah, all emerging technologies are either expensive or their use is not well understood by potential customers. DrAAS, he hopes, will allow service providers to transfer the benefits of the technology to customers in different sectors without having to invest in the capital expenditure. "This also makes adoption economical for customers and provides an incentive to manufacturers and service providers to work together on a continuous cycle of innovation," Shah added.
Ankit Mehta, chief executive officer of IdeaForge, a Mumbai-based drone company, believes DrAAS will expedite drone adoption across various sectors in India by 5-10 years.

Mehta explains that demonstration of drones and their benefits is crucial to expand the drone industry. Drone Shakti will enable easier demonstration through service providers, and not limit it to drone manufacturers with limited funds. This will help demonstrate returns on investment (RoI) made in drones and expand the scope of businesses in this industry.
It also means that the "onus will not be on the drone manufacturers to also operate them, and leaves that scope of the industry open to service providers who can buy drones and provide crop health monitoring as a service," Mehta added.
IdeaForge had signed a $20 million contract with the Indian army in January 2021 to supply drones. Though the drone industry in India is in a nascent stage, its adoption has started to pick up. In addition to being deployed by law enforcement for surveillance and crowd control, they are also being tested for delivery of goods in various sectors.

Several states are examining technical and safety parameters to allow application of drones. Last week, the Rajasthan government carried out a pilot on the outskirts of Jaipur using drones to spray fertilizers on crops.
With DrAAS, the use of drones is expected to grow further. However, implementation will also require that the customers availing the services are properly trained to use the drones. "Even for farmers to use drones, proper training will be required so that they are aware of the technology so they can use it in the best possible way. Training is very critical. Applying for a license and getting it through DGCA will still be a challenge," said Shah.
Shah feels the drone pilot license is something that can be relooked due to the administrative challenges it poses.

Early this week, the union ministry of agriculture and farmers welfare amended the guidelines of the sub-mission on agricultural mechanization to promote use of drones in agriculture. The new guidelines will provide grants of up to 100% to agriculture enterprises on purchase of drones.
Further, under the liberalized Drone Rules 2021, published in August 2021, payload capacity for drones for farming activities was increased from 300kg to 500kg. In September 2021, India had approved a PLI scheme for manufacturing drones and drone components in India.
Ashish Aggarwal, vice president, Public Policy, NASSCOM said, the budget announcement on the use of drones builds on a recent scheme by the union agriculture ministry to incentivize the use of drones through grants. This should enable adoption in India.

---