Cryptocurrency platform Coinbase's new commercial caused its platform to crash temporarily.
The commercial for the Superbowl resembled the DVD wait screen of yore, with the coinbase QR logo changing colours everytime it hit the end of the screen. When the QR code was scanned, it redirected users to a promotional offer. The real reason the application crashed was that Coinbased announced $15 worth bitcoin to anybody who joins the platform by 15 February.
The influx of new users caused the application to crash. The phone application put out a message saying that the app needed a quick time out. "Well that was more popular than we thought, we need a quick time out, but don't worry, we'll email you when things are back to normal," the opening message on the application said.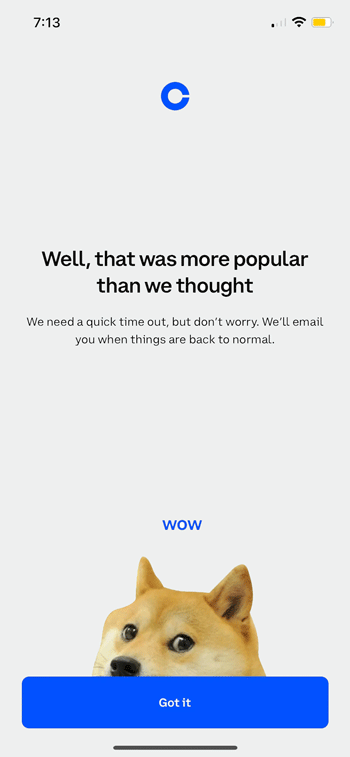 The SuperBowl, which is the annual playoff championship of the National Football league in the USA, saw many commercials from cryptocurrency companies. This includes the likes of Crypto.com, FTX and the likes.
Meanwhile, Meta took a clever dig at Coinbase's ad, with Meta Quest tweeting its own version of the QR code that bounces, with the tag line "hopefully this doesn't break."
The ad ran on televisions on February 13, and the outage, which lasted only for a few minutes, saw the company's stock plunge by more than 5% on opening trade on the Valentine's Day, however, it eventually rose by more than 1.7% by mid-morning on 14 February.
---