India's armed forces turn to 3D printing for military construction work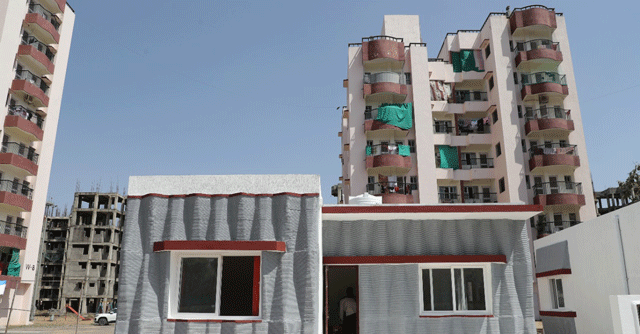 On March 14, the Indian Army's Military Engineering Services (MES), announced that it had built two houses within three weeks using 3D printers. In a press release, the MES said that it had used 3D Rapid Construction Technology to put up these houses in the South-Western Air Command in Gandhinagar, and that it was a first-of-its-kind structure in India.
However, while 3D printed houses aren't particularly new, the use of this technology in the Indian armed forces is not confirned to building houses alone, said stakeholders involved in the process. According to a senior executive of an Indian 3D printing firm, defence agencies in the country want to build various military structures in border areas using the technology.
"They are asking us to make bunkers, parking for military vehicles in border areas where traditional construction is challenging due to harsh weather conditions and labour is in short supply due to threat from hostile neighbours," said Vidyashankar C, co-founder and chief operating officer of Tvasta Construction, the Madras-based 3D printing company that has built the two 3D printed houses mentioned above.

Incubated at Institute of Technology (IIT) Madras, Tvasta had raised Rs. 3 crore from non-profit organization Habitat for Humanity in October 2021 and was one of the first in the country to successfully develop a one-storey 3D printed house that met existing protocols meant for traditional houses. The startup has been working with the Central Building Research Institute (CBRI) and Structural Engineering Research Center (CSIR) of the Government of India for approvals to ensure the 3D printed structures are safe to inhabit.
The 3D printed houses for the Air Force were deployed in 35 days. With traditional construction it would have taken six months, Vidyashankar claimed. Quick turnaround time is one of the key drivers for interest in 3D printing technology, especially in areas where traditional construction is a challenge.
Swapnil Sansare, founder and chief executive officer, Divide by Zero, a Mumbai-based 3D printer manufacturer, concurred. "There is a lot of interest from government organisations to use 3D printing for defence and railways," he said.

Sansare said that there are discussions and brainstorming happening on many levels to check feasibility and sustainability of the technology, in terms of building houses, bunkers and other emergency structures. Divide by Zero is working with the Defence Research and Development Organization (DRDO) and the Indian Space Research Organization (ISRO) on some projects, Sansare said, without revealing the nature of these projects.
Houses built with 3D printing also allow greater flexibility in terms of designing. For instance, the 3D printed structures built by Tvasta are slightly different from the residential houses built by the company. Tvasta had also build a 600 square foot one-storey 1bhk house using 3D printing in April last year, which took the company five days.
Vidyashankar said previous houses were for affordable housing, while the ones for the armed forces are designed specifically for the defence sector and have been deployed in areas where local conditions are hostile to new construction.

"We have used a new composite mix and new design to make it more adaptable to local conditions. For instance, the houses in Jaisalmer have a lot of curves to avoid sand deposits, so the sand does not corrode it. The material also has some anti ultra violet (UV) properties," he explains.
Building 3D printed structures is also not labour-intensive either. The 3D printing material can be used to print parts remotely and assembled at the deployment site afterward. The startup can also set up a 3D printer on-site where the parts can be printed and assembled on the spot.
A spokesperson of the Ministry of Defence didn't respond to an email seeking comments on the future deployment of 3D printed houses by Indian armed forces.

The Indian Armed Forces aren't the only ones exploring 3D printing either. In August 2021, the US Army unveiled a 3D-printed barrack in Texas. The building is spread over an area of 3,800 square feet and can accommodate 72 people.
---