Samsung rolls out OTT-enabled projectors in India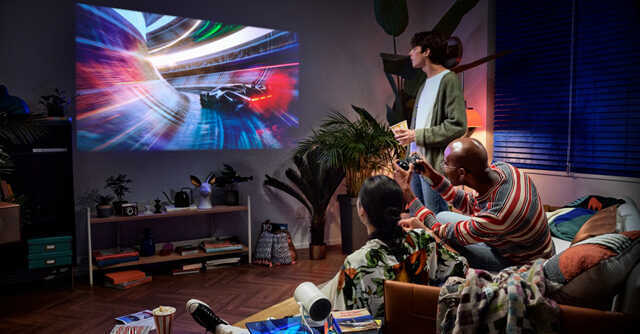 Samsung has introduced over-the-top (OTT) platforms-enabled 'The Freestyle' projector in India. Weigh 0.8 kg, it is being positioned as an 'ultraportable projector' that can beam a screen size of up to 100-inches (2m×54cm). The Freestyle will be available both offline and online stores as well as at Amazon at a price tag of ₹84,990.
Apart from certified OOT platforms, Samsung revealed that its consumers will also be able to avail 'smart features' that are available on its Smart TVs, with built-in streaming services and mobile mirroring and casting features that are compatible with both Android and iOS mobile devices. The Freestyle has a C-type power connection for charging for powering it up, reveals the South Korean electronics giant. It also supports Tap View, Airplay 2 and has a Micro HDMI port for better connectivity.
"With The Freestyle, we want to present a user experience that meets diverse preferences and lifestyle needs anywhere, anytime, by going beyond the limitations of a space," stated Mohandeep Singh, Senior Vice President, Consumer Electronics Business, Samsung.

The Freestyle is an ultra-portable projector that offers unlimited possibilities for instant entertainment be it indoors or outdoors, content viewing or ambient lighting, gaming or music — all you need to do is just tilt and go. Its unique form factor will change the way you play, he further said.
The Freestyle is equipped with a 'versatile cradle' that can rotate up to 180 degrees for multiple viewing angles. It is also equipped with auto keystone; auto-levelling and autofocus features and comes with a button that syncs it with Galaxy (smartphone) devices. It also comes with 'Omni-directional 360-degree' sound with a built-in speaker and the device supports a number of modes like ambient, prism lighting effect with a translucent lens cap, sceneries or the user's photos.
---