Google announces new features in Meet and Spaces, to roll out optional end-to-end encryption this year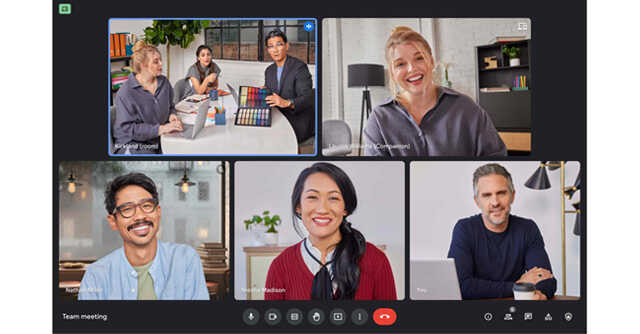 Google has announced several new features including optional encryption in its Workspace apps to help hybrid workers express and collaborate better and in a more secure manner in virtual meetings. Most of these features will be available starting this month while the rest will be added over the course of the year. The announcement of these features coincides with Google calling its workers back to the office.
The optional client-side encryption in Google Meet, expected to roll out in May, will allow direct control of the encryption keys and identity provider used to access those keys. Google said it will roll out optional end-to-end encryption for all meetings later in the year. End-to-end encryption is offered by several meeting apps such as Zoom, as the increase in online meetings has led to a wave of cyberattacks to infiltrate these meetings and steal corporate information.
To improve the collaboration experience during meetings, Google said it would allow users to merge their shared docs, sheets, and slides with meetings in Google Meet. Users can start a meeting and pull a document or slide into it, allowing them to talk and collaborate on a project in real-time. This can be a lot more convenient as they won't have to switch between Meet and document files to discuss and work on it simultaneously.

Google is also introducing a picture-in-picture mode that will allow users to convert a meeting in Google Meet into a floating window that they can place on top of other apps. Users can drag and place it anywhere on the screen. Picture-in-picture is a commonly used feature on Android devices. It was introduced with Android 8 and is a useful multitasking tool.
Google also said that it is rolling out automatic noise cancellation for all devices that support Meet. This will reduce background noises for people working from home. Microsoft Teams also offers a similar background noise suppression feature.
Further, Google is adding the option to express reactions in meetings using emojis. Google said this would provide the presenter with immediate feedback during meetings. The reaction emojis will show next to the user's name in the video tile.

For users who live stream on Google Meet, Google has added the option to conduct polls and Q&A sessions in meetings. This would put Google Meet on par with other apps such as Zoom that offer similar features to its users. Google said that later in the year it will allow users to live stream meetings directly from Google Meet to YouTube.
According to Google, hybrid work has revived interest in cloud-based phone systems. Google said it will bring its Voice feature to more customers along with an optional call recording feature for premium subscribers.
In addition to Meet, Google has also announced new updates in Spaces. For instance, the new inline threading feature will prioritise conversations by creating side conversations. Google claims this will keep the messages organised. Google said it will also improve search in Spaces to help users find the most relevant files and conversations.

---