The Bitcoin mining industry has noticed a 25% decrease in electricity consumption in the first quarter of 2022, according to a report by the Bitcoin Mining Council. The Council is a voluntary consortium of Bitcoin mining companies and other participants from the industry.
The report stated that the advancements in semiconductor technology, expansion of mining in North America, ban on Crypto mining by China and sustainable energy practices are reasons for a claimed 63% increase in energy efficiency.
However, a closer look at the total Bitcoin energy consumption, from the Cambridge Bitcoin Electricity consumption Index, shows that in April 2021, the cumulative electricity usage was 10.25 terawatt per hour, and in March 2022, it had increased to 11.66 terawatt per hour.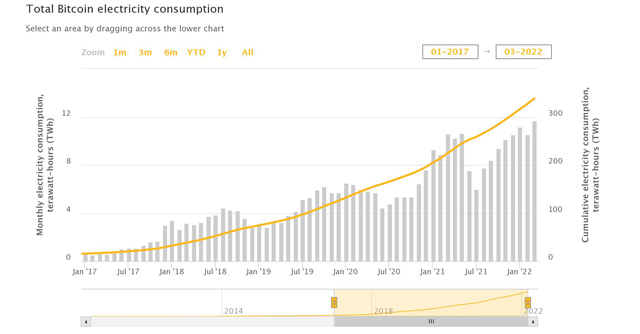 At the end of May last year, Tesla's Elon Musk offered to help crypto miners to form a Bitcoin Mining Council, The BMC was officially formed in mid-July, although Musk has no role in the organisation.
Also read: Bitcoin miners are pushing hash rates to new highs to tackle highest network difficulty ever
"It is estimated that the global bitcoin mining industry's sustainable electricity mix is now 58.4% or had increased approximately 59% year-on-year, from Q1 2021 to Q1 2022, making it one of the most sustainable industries globally," the report said.
Bitcoin mining has come under a lot of scrutiny for not being very environmentally friendly. One of China's prominent reasons for banning mining in May last year was because it was energy-intensive.
The energy expenditure is measured in hash rates, which is the term used to calculate computing power of computers. In October last year, the University of Cambridge reported that US had exceeded China as the world's biggest bitcoin miner and accounts for 35.4% of the global hash rate.
In September last year, New York Times reported that Bitcoin uses more electricity than many large countries. "The process of creating Bitcoin to spend or trade consumes around 91 terawatt-hours of electricity annually, more than is used by Finland, a nation of about 5.5 million," the NYT report said.
---