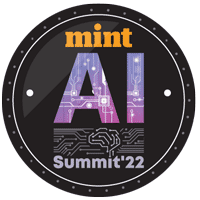 The quest to make artificial intelligence (AI) write books, play music and paint is a work in progress. According to Jaspreet Bindra, author and chief tech whisperer at US-based enterprise artificial intelligence (AI) firm Findability Sciences, the path to perfection is still a work in progress.
"The thing about creativity is that it's part of human nature. Ai Wei Wei, a famous artist, once said that creativity cannot be taught – it can only be untaught. On the other hand, every principle of AI is all about teaching and learning. This leaves open a paradox – can you really machine-learn creativity?" he asked, during a keynote at the Mint AI Summit on April 29.
Companies and researchers have succeeded in creating AI that could defeat human opponents in creative fields, as Bindra showcased in his session at the Summit. The first of the instances was a showcase of the first AI-made music, which was trained on an instruction set of The Beatles songs.
"Since this first instance, today you have thousands of examples of AI creating music, which are publicly available," Bindra said.
Gaming has a wide range of examples of creativity in machines. Bindra showcased how grandmaster and former World Champion, Gary Kasparov, was beaten by a machine in chess in 1997. Since then, AI has improved majorly, and as Bindra said, "If Kasparov plays against an AI today, he'd lose every time."
He also showcased DeepMind's achievements in AI, which in 2013 created a benchmark in Atari. In 2017, DeepMind defeated 19-time world champion, Lee Sedol in Go – widely regarded as one of the oldest and most complex board games in the world.
"Go is not a very calculated, moves-based game like chess – and requires human instinct to play. A year after losing, Sedol retired from the game stating that humans would no longer be able to defeat AI in a game of Go," said Bindra.
He also showcased Microsoft's replication of a Rembrandt painting that could pass the expert eye, IBM Watson's performance at debates and OpenAI's advances in AI writing with GPT-3 – and the potential of the upcoming GPT-4.
"Creativity, ethics and emotions in AI are things that we don't fully know yet, but will hopefully find out in the future," he added.
---