Make Experiences Flow with World's #1 Cloud Customer Experience Platform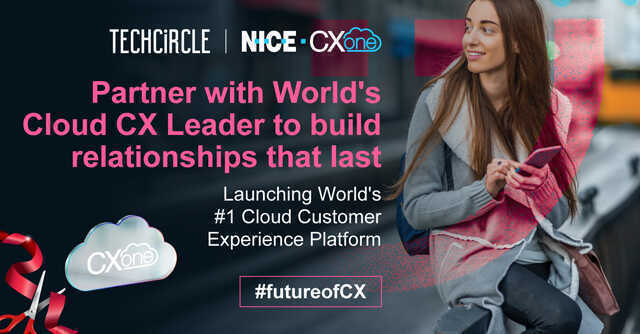 TechCircle, in association with NICE, organized one of the most premier launches— "NICE CXone: World's #1 Cloud Customer Experience Platform." The platform is primarily focused on delivering heightened customer experience. The idea, to a large extent is to demonstrate how IT/ITES, BPOs, and contact centers can become the first choice of customers, the first to innovate, and the first choice employer.
"NICE CXone: One Experience, One Journey, One Cloud, One Step Ahead."
Shalil Gupta, CBO, Mosaic Digital, kick-started the 3-city roadshow, highlighting that customer experience is a journey; it is no more a single touchpoint and one interaction. He further elucidated, what this journey means today for us, and how we are merging the physical and digital worlds.

Sanjay Gupta, MD, NICE, set the stage with his invigorating welcome note on what digital CX & its journey is and how we can make it seamless and frictionless for ourselves and our customers.
"CX Vision: I want to keep it as simple as a conversation with my mother."
He further talked about the partnership avenues for BPO/ IT/ITES companies to build new revenue streams and enable superior CX. Sanjay spoke volumes about the future of CX and showcased the first & only platformthat unifies best-in-class Customer Analytics, Omnichannel Routing, Automation & AI, and Workforce Engagement—all built on an Open Cloud Foundation.

"Take the friction out of digital interactions for your people and customers."
With the theme "Partner With World's Cloud CX Leader to Build Relationships That Last", this half-day event focused on five key objectives: Customer Sentiments, Agent Engagement, Intelligent Self Service, CS Attitude Towards Omnichannel Services, and Frictionless Journey Orchestration.
"Leverage intelligent self-service, cross-channel compatibility, and personalized experiences."

Moving on to the topic: Future of Digital Experiences, a wide spectrum of concepts and ideas got covered in the keynote session. These included:
• Digital future = non-digital vs. digital components;
• Customers create their journey & experiences, and companies enable them;
• Digital led trust & transparency;
• Cloud enabled automation;
• And today, tangible metrics measure success.
Shalil further reiterated that it's the journey or experience that we relish. We are no more in the flat world; it's the personalization that matters. He also spoke volumes about CEO priorities in FY23 and the investment mindmap.
"Customer insights & analytics and customer experience go hand-in-hand."

The Age of Digital Led Revenue & Customer Success Measurement
• 75% Conversion Rates through Digital Channels
• 70% Reduction in Time- Buying Journeys
• 60% ARR by Digital Revenue & Experience Channels
• 50% Interactions Digital Customer Lifetime Value
"The new metrics for CX success is feedback-driven."
Next to this, there was an insightful session on CXone-Be Where the Journey Begins. Mark Harington, VP Solutions APAC, NICE, took a deep dive into the concept of the gold standards for delivering the exceptional CX—CXi and platform that can get the standard up & running— CXone.

"Create micro experiences that matter. There is no silver bullet to CX. "
Mark further reiterated, pick & choose what matters most. Today, customers have changed, companies have changed, and so is the need for CX. It has to be completely frictionless, seamless, completely interconnected and should have the ability to move across.
"CXi = Meet the customers where they start, deliver smart self-serviceto them, and enable smart journey."

Lastly, Mark also mentioned: get the customers at the starting point, make the desired knowledge available to them, bring them to the right channel, and route them smartly.
"Four key pillars of effective CX that build long-lasting relationships– AI, digital engagement, self-service, and agent empowerment."
After Mark's session, there was an invigorating session by Belinda Haden, Director of Strategic Alliances APAC, NICE, on Be the Partner of Choice. Belinda drew attention to key elements such as the current partner model, how to make technology self-justify on an internal basis and how to leverage revenue & distinguish yourself in the marketplace. Most importantly, she highlighted that the value proposition is no more 100% cost-centric.
"Today, customers want everything to be translated into transformation advice and backed up by statistics. "
As a prelude to the event, in a recent interview, Sanjay Gupta, MD, NICE, elucidated one of the big challenges that every contact center, BPO, IT/ITES is struggling with; to be where the customer is.
The event was presided by 100+ patrons from multiple industries. NICE witnessed how enterprises can re-architect their blueprint along with NICE, make experiences flow and build long-lasting relationships.
To know more, feel free to connect.
Brand Solutions is a marketing initiative for sponsored posts. No TechCircle journalist was involved in the creation of this content.
---