WWDC 2022: Apple iPadOS 16 and macOS Ventura aim to improve productivity and multitasking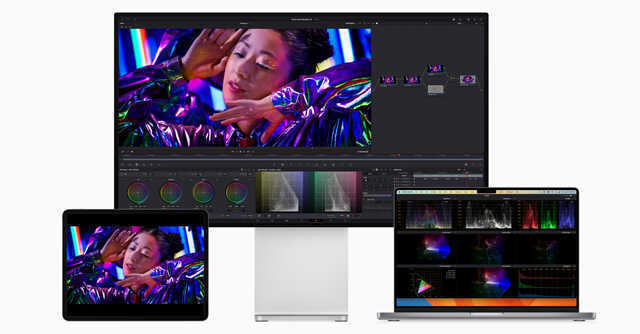 With more people now using tablets for work, Apple's push to make its iPadOS more capable of productivity, multitasking and collaboration makes sense. At the annual Worldwide Developer Conference (WWDC) 2022, Apple showcased some of those work-centric features that will roll out with iPadOS 16 on iPads. Apple also previewed a new version of macOS with enhanced productivity tools for MacBook users.
iPadOS 16
The iPadOS 16 will get a new feature called Stage Manager, which will let users multitask with multiple overlapping windows in the background. This will automatically organise apps and windows, so users can quickly switch between tasks. The app users are working on will show in the centre of the screen in a window mode, while the other apps will show in a column on the left side of the screen. The most recently accessed apps will show on top.

It will also bring external display support to iPads with up to 6K resolution. Until now, external display support was available only in MacBooks and iMacs. This will allow iPad users to work on up to four apps on the iPad and simultaneously work on up to four other apps on the external display.
Apple is also bringing a new collaboration platform called Freeform for iPad users. It will allow users to collaborate and work on a file together using Apple Pencil. Users can start a collaboration session from Facetime and see comments and updates from others in the Messages thread. The Reference mode will allow users to access same workflows across iPad Pro and MacBook Pro, allowing creators to use the iPads as reference devices.
The email app on iPadOS 16 will give more control to users. They will be able to cancel delivery of emails immediately after sending them, schedule emails, and send them to Remind Later when they have time to access it.

Apple has rolled out the Passkey that can be used to log in to websites on the Safari browser for secure browsing. Passkeys are unique digital keys that will be saved on the device and not on web servers.
The Live Text and Visual Look Up feature, seen on iOS 16, will also be available on iPadOS 16. Live Text can now recognize text in videos, allowing users to translate languages in videos.
macOS Ventura

The upcoming version of the Apple desktop and laptop operating system will also offer the Stage Manager feature for multi-tasking. The continuity camera tool will let users use their iPhone as a webcam which they can clip on top of the MacBook. It also allows users to access the capabilities of the iPhone camera such as center stage, ultra-wide camera angle, and portrait mode on the PC.
Also read: Apple unveils new Macbook Air, Pro with upgraded M2 chip: Price, features and availability
A new feature called Handoff will allow users to start a Facetime call on MacBook and seamlessly transfer it to an iPad or iPhone or vice versa. In the new OS, the Safari browser will get a feature called Shared Tab Groups, allowing users to share their favorite websites with friends and colleagues and see the tabs they are looking at in real-time. Also available on iPadOS 16, this feature would also help in collaboration.

Canceling delivery of emails and scheduling will also be available on macOS Ventura. Similarly, secure browsing using passkeys will be available on it.
Apple said the macOS security will become stronger with new tools such as Rapid Security Response that will keep security up to date on the iMac and MacBook devices.
---