Google rolls out new features in Chromebook, Classroom, Meet to make learning more interactive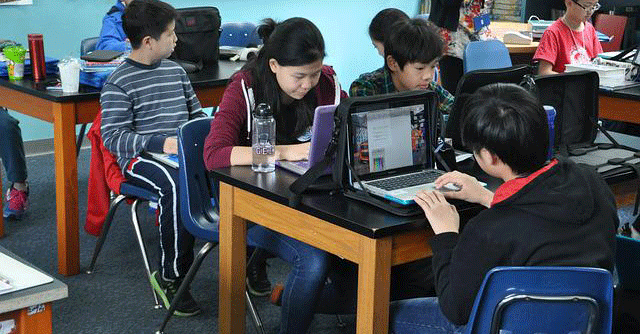 Google is rolling out new features on Chromebook, Classroom, and Google Meet to improve collaboration between teachers and students and improve the learning experience.
How students learn and educators teach is changing, especially after the Covid-19 pandemic. The focus is more on making content more interactive and collaborative. Many schools globally as well as in India are implementing VR-based learning in classrooms. Many ed-tech platforms have been focusing on making lessons more interactive.
Here are the key announcements by Google for teachers and students:

Screencast lessons on Chromebook
Chromebooks are widely used in classrooms in the US. ChromeOS allows users to capture screenshots.
Also read: Apple may soon launch its 'own' search engine to take on Google

Google is adding a new app called Screencast to ChromeOS that will allow users to record, trim, share and view any content on their screen along with their voice. This will allow teachers to share a lesson with students as videos by turning on the screencast button and anything on their screen along with their voice instructions will be recorded. Users will also have access to a market tool that they can use to highlight specific parts of the lesson or add notes to it. The recorded audio will be automatically transcribed into text and will show on the right side of the screen on the students' Chromebook. The text can be translated into other languages of choice directly in the shared transcription.
They can edit the video lesson and share it with students. Users can also create a custom library of videos, which will be automatically saved in Google Drive.
Google further said that it's launching a new feature called Cast moderator on select devices with Google TV. It will allow teachers and students to wirelessly share their Chromebook screen with a display in the classroom using an access code to keep the content within the classroom.

Adaptive learning in Google Classroom
Further, to help teachers manage their day-to-day tasks more efficiently in the Classroom app, Google is introducing something called Practice sets.
It will help teachers make their assignments interactive by providing students instant feedback on their tests. If they are stuck during the assignment, it will help them with visual explainers and videos. For teachers, it can perform automated grading and generate insights that can help them identify the areas in which a student is struggling, so they can focus more on it in future lessons.

Practice sets will be available only in English in beta to Google Workspace for Education customers who have Education Plus or the Teaching and Learning Editions subscriptions.
Another feature called Add-ons will allow students and teachers to access more than 15 EdTech tools, such as Kahoot and Pear Deck using a single login. This will save students from remembering passwords. Add-ons will be available with the Education Plus or Teaching and Learning Edition subscription plans.
The ability to automatically sync rosters from the student information system (SIS) to Classroom, which was rolled out last year, will be available to users in 15 more countries using the SIS integration solution Elevate Data Sync, Google said. This will allow admins to sync class lists and timetables directly with student information systems. This will free up teachers from setting up their courses manually.

Improving interconnectivity with Google Meet
Last year, Google added the option to enable live-translated captions in Google Meet. This came in very handy for teachers during video meetings with multilingual parents or for language classes.
Now, Google is bringing more features that make its Meet app all the more relevant to students and teachers. Now users can host Q&As and polls during a live stream, and auto-transcribe Meet calls directly into a Google Doc, which makes it easier for students and teachers to review, edit and search lessons. Schools can also live stream Meet video calls on YouTube for events such as school board meetings and school assemblies.

---