Fifty-six per cent of total mobile data traffic in the India region including India, Nepal, and Bhutan will be on 5G networks by 2027, shows the latest Ericsson Mobility report, published June 21. 5G will account for 39% of all mobile subscriptions (expected to be around 500 million) in the region by 2027, the report added.
Globally, 5G mobile subscriptions will surpass 1 billion in 2022 and 4.4 billion by 2027. According to Ericsson, 25% of the World's population is already covered by 5G, and by 2027, 75% of the global population is likely to have access to it.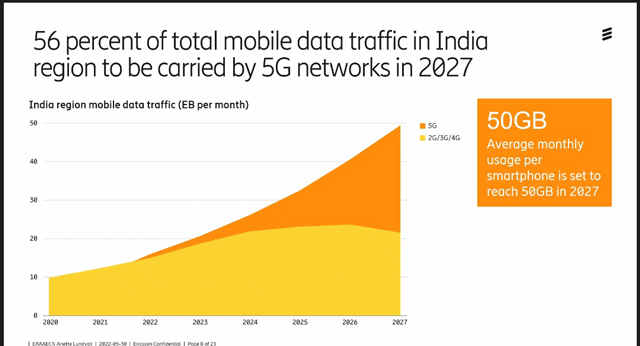 Credit Ericsson
India is yet to roll out 5G services, yet the interest in 5G is very high. Both consumers and enterprises have shown interest in 5G. To be sure, 52% of Indian enterprises want to use 5G in the next 12 months, shows a study conducted by research consultancy Omdia for Ericsson. The findings of the study were also released with the mobility report. For the study, 326 business executives including CTOs and CEOs in India were interviewed. The Omdia study also found that 56% of Indian business heads count 5G as one of the most crucial technologies for digital transformation.
India is expected to conduct 5G auctions next month. On June 14, the Indian cabinet gave a green signal to Department of Telecommunications' (DoT) plans to auction over 72 GHz of 5G spectrum with 20 years validity during July-end. On June 18, India's telecom minister Aswani Vaishnav said that 5G deployment will start in 20 to 25 cities by the end of the year.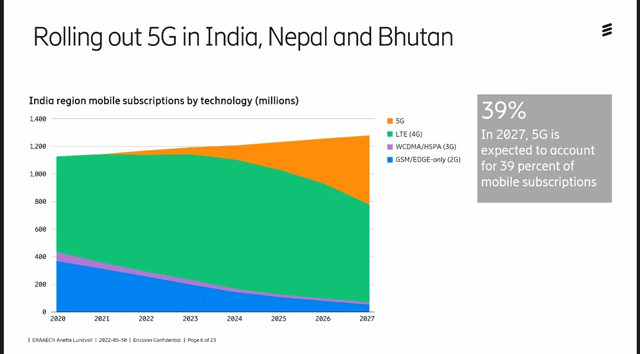 Credit Ericsson
"Total mobile data traffic in the India region is estimated to grow by a factor of 4 between 2021 and 2027. This is driven by high growth in the number of smartphone users and an increase in average usage per smartphone," said Thiaw Seng Ng, Ericsson's head of network evolution for SEA, Oceania, and India.
The emerging use cases for 5G include cloud gaming, Internet of Things (IoT), metaverse, private network, network slicing, and fixed wireless access, as per Ericsson
Camille Mendler, chief analyst, enterprise services at Omdia pointed out that there is a growing understanding of what 5G can do. "The number one reason enterprises are interested in 5G is for quality. They have a desperate need to obtain better performing digital services," she added.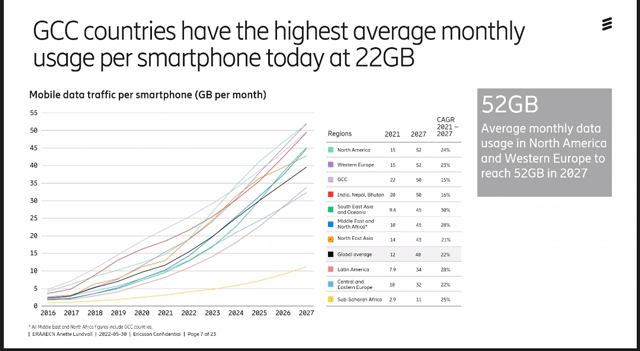 Credit Ericsson
Mendler said that with 5G, enterprises are looking to change business models, support new ways of working, empower the workforce, reduce risk, and create a new customer experience.
Having said that Mendler noted that the vast 5G opportunity for telcos in India will come from mobile broadband, fixed wireless, and moving enterprise to mobile devices. The private 5G market is less than 1% of the market opportunity globally.
Further, the Ericsson report found that the average monthly data usage in the India region is also expected to grow by 16% to 50GB in 2027 from 20GB in 2021. It is going to be the second-highest in the world after North America (52GB). The global average monthly data usage is expected to grow to 40GB in 2027 from 12GB in 2021.
---