The NICE Technovation 2022: The Path to a Frictionless Customer Experience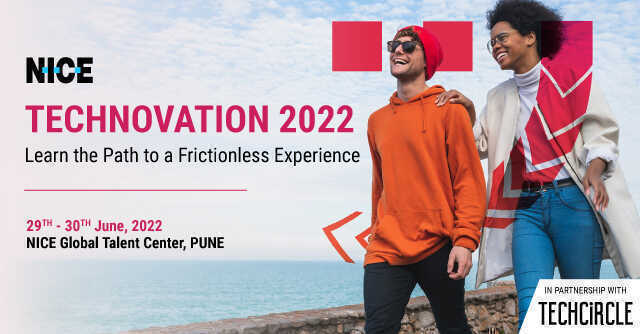 Understanding, experiencing, & visualizing frictionless experiences could be usually difficult & complex. This year's NICE Technovation Summit in association with TechCircle set out to help solve the same.
The 2-day event, held on 29th & 30th of June, at the NICE GTC in Pune, hosted over 150 guests over the two days, enabling them with experiential learning related to path-breaking innovation. All of which was delivered and showcased by the maker's themselves.
The NICE GTC building, transformed itself to host over 150 decision makers, allowing them to directly interact with the product makers, specialists, & international experts on customer experience. Thus, becoming a hub where customer feedback from the decision makers was also captured to re-engineer newer products & solutions – all part of the experiential learning.

On the 29th of June, the event began with an expansive demo station led showcase of NICE innovation & solutions, that customers could directly experience and also some invigorating talk tracks that showcased outcomes from real-world examples. Demo stations included:
• Interaction Analytics solutions
• Intuitive dashboards for customer experience journey mapping
• Workforce efficiency and management solutions amongst others
Customers could also pick and choose multiple talk tracks, moderated and presented by senior NICE leadership from different counties on how they helped their customers transform CX experiences. Some of the key highlights from the talk tracks included:

Track 1: Leveraging Interactions Data to Pump up Your CX – a talk led by Mr. Philippe Mercier, VP of APAC Analytics Sales. Philippe focused on the importance generating real and new insights from across the customer experience with seamless automation, intelligent insights that are driven by valid data for improved and fast decision making.
Track 2: Offering Your Customers a Frictionless Personalized Experience – led by Mr. Ganesh Iyer, Solutions Consultant at NICE. Ganesh led an interactive, challenge vs solution approach. Each challenge raised by some of the users were answered with global best practices and how NICE's solutions set about to solve them. Avoiding repetitions and redundancies to improve efficiencies across customer journeys, understanding the starting points of customer journeys and binding together disparate customer journeys with intelligent technologies were some of the discussion themes.
Track 3: Over-achieving Call Center KPIs with Prepared Agent & Complete Performance – led by Ms. Nadia Younan, APAC WFM Solutions Manager at NICE. Nadia focused on the evolution of contact center solutions and intelligently orchestrating the balance between physical and digital touchpoints. The WFM suite dwelt into how a prepared agent led to seamlessness of customer experiences across their customer base.

Track 4: Cloudifying Communications Compliance – led by Mr. Karthi Devaraj, Regional Manager of Solution Consulting. Karthi led one of the most interactive sessions, highlighting the increasing need for automation of compliance across customer journeys. Creating cloud native solutions that can manage 360-degree compliances for compliance and preventing misuse and data breaches were some of the key highlights of the session.
Post a scrumptious lunch, Mr. Sanjay Gupta the MD of NICE India, delivered a keynote address that focused on the theme of "A Call for CX Reset". Sanjay discussed and encouraged delegates to rethink and reset their CX strategies, as consumption patterns, digital journeys and digital pivots of customers continue to change post-pandemic. The key highlights of the keynote included:
• The pace of change and innovation needed to exponentially grow customer experience
• Contextual growth of customer data and insight along with compliance of data security
• Creating rewired customer journeys that will expand customer pools for revenue topline and retention through self service
• The advent of Total Experiences or the combination of EX & CX
• The importance of relevance and personalization to create unique experiences at scale

Sanjay summed up the backdrop of the event – an effort from NICE to focus on experiential learning for customers, including them as part of NICE's R&D journey, and thus enabling revenue growth for them. He reiterated the importance of understanding the new "digital doorsteps" – on how with NICE solutions, customers can expand and tap into hitherto unexplored customer pools.
The event also followed with similar tracks, entertainment, & learning sessions over the following evening and the next day – with almost all of the customers unanimously asking for the next edition!
Brand Solutions is a marketing initiative for sponsored posts. No Techcircle journalist was involved in the creation of this content.

---