CoinSwitch, Startup Karnataka announce hackathon to build web3-based smart city, digital governance solutions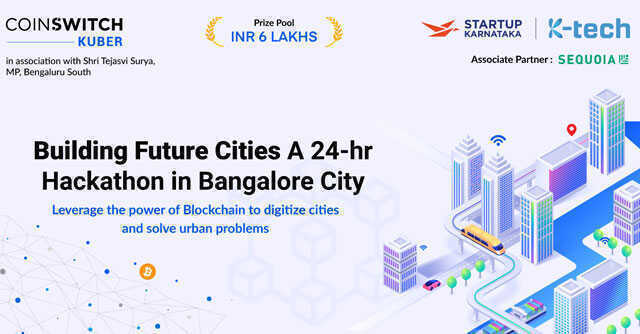 Indian web3 startup CoinSwitch, in association with the Karnataka state government's Startup Karnataka initiative, venture capital firm Sequoia India, and member of parliament Tejasvi Surya, announced 'Building Future Cities' – a blockchain hackathon. The latter will look to incentivise individuals and groups to build web3-based tools and services for developing smart city projects, digital governance and decentralised supply chains.
The hackathon will offer a total prize pool of Rs 6 lakh, with the winner set to be awarded 3 lakh. Participants can enter the hackathon either individually, or as groups with up to four participants.
Projects being worked on by participants in the hackathon will work on blockchain-based services for smart mobility initiatives, developing an energy credits and energy trading platform, decentralised waste management infrastructure as part of smart city projects, blockchain-based digital identity and certificate management platforms, vaccine distribution programmes, and decentralised farm supply and industrial supply chain management projects.

Ashish Singhal, chief executive of CoinSwitch, said in a statement that the hackathon will "kickstart an innovation cycle in India and for India, by equipping and enabling India's pool of developers."
To be sure, this is not the first initiative that seeks to boost blockchain development initiatives in India. In April this year, fellow cryptocurrency exchange and web3 startup WazirX, in collaboration with startup incubator Buidler's Tribe and the Atal Incubation Centre at the Goa Institute of Management, announced a blockchain accelerator programme to help build web3 startup pitches.
The programme did not allocate a fixed prize pool for startups pitching their ideas, but offered a network of venture capitalists and investors with total assets under management (AUM) valued at over $500 million.

CoinSwitch itself has previously partnered with Telangana government and innovation management firm Lumos Labs to host an India Blockchain Accelerator programme. The latter offered up to $700,000 to winning startups to build public blockchain services.
In the public domain, states such as Goa have adopted initial decentralised services for excise, and goods and service tax (GST) management initiatives – which the latest Karnataka hackathon will seek to expand upon.
---