Imagine meeting your friends, close associates or colleagues inside your own virtual property, where you can interact freely and most importantly— in your own 'space'.
With the emergence of the metaverse, the concept of 'digital space' will be something which would be more prevalent. Real estate in the metaverse, essentially are parcels of land in the virtual world. In simpler words, these are just some pixels that you're investing in. However, in a broader sense they are not merely digital images, what you're buying is a programmable space to socialize, interact, play games, sell items, attend meetings, and virtual concerts—do everything that you continue to do in the real-world.
Many would believe that the idea of owning virtual land just doesn't make sense. Some would probably even call this a FAD which would eventually fade away. But, this is far from reality.
Digital land prices continue to boom
With the metaverse booming, stats reveal that digital real estate is expected to expand. Ever since META announced and indicated an interest in the metaverse, the idea of virtual properties grew—in the last quarter of 2021. And as the popularity continues to rise, the value of metaverse real estate is forecasted to have a CAGR of 31.2 per cent from 2022 to 2028.
In many ways, lands in the metaverse replicated real estate. Like in real-life, metaverse properties can be leased, developed, or even rented out. Of course, a financial system would be required to facilitate buying lands, as we do in the real world. This is where MetaFi, a Decentralised Finance for metaverse would come to the rescue.
Circling back to the question: Why would anyone buy metaverse lands?
For aforementioned utility purposes and most importantly for earning profits. In the real world or metaverse, the idea of owning land will always be linked to gaining profits. The trend shows that owning virtual lands in the metaverse is way more profitable than real-world estate.
How Can I Buy?
Purchasing any lands in the metaverse works quite similar to buying an NFT, which means that every piece of land you own has a deed of ownership, a unique piece of code on the blockchain.
This code gives the property-owners exclusive rights of ownership. It is essentially a certificate which can neither be changed nor modified—it is immutable.
With the rates booming in the metaverse, not many can afford to buy a piece of virtual land in one go. This is exactly what MetaFi wants to solve. MetaFi works like a mortgage where the user can select an NFT (in this case a virtual land), deposit a downpayment, submit an EMI plan and apply for a loan.
Once the loan is approved by a lender, the NFT is purchased and locked in a contract till the loan is repaid. NFT is mortgaged in the contract. This means the user can sell the NFT in the open market as well if the price is right – just like a home loan.
Choosing Virtual Lands to Buy
Undoubtedly, new metaverses are opening up every other day. So, choosing the right location in the metaverse plays an important factor. Some of the famous metaverses that have garnered a lot of attention as well as increased in value are: The Sandbox and Decentraland. Brands like Samsung, Atari, Miller Lite, and Adidas have already invested in these virtual worlds.
Our advice would be taken for areas that show some potential for development. Ideally, these places should have a lot of public interest. A place where people congregate will anytime be more valuable than nondescript areas. Developed districts would be a feasible option to consider. You can score these properties at relatively lower prices, build on them, and wait for prices to drive up.
Not an investment advice
Investment in the metaverse comes with risks as well. This is the case with every other investment too. While the returns look big in the metaverse, there are chances of big losses as well.
It is important to do your own research (DYOR) before investing in any project, not just virtual lands. What can be assured is that the rapid shift in digitalisation ensures that the metaverse future is bright. Lastly, before making any investment decision, it is equally important to be educated about the metaverse. The benefits and the challenges. Nevertheless, the metaverse is here to stay.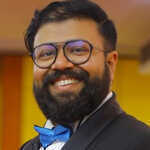 Ankitt Gaur
---
Ankitt Gaur is the founder and chief executive officer of EasyFi Network.
---