Samsung to spend $15 billion to setup a new chip R&D facility in South Korea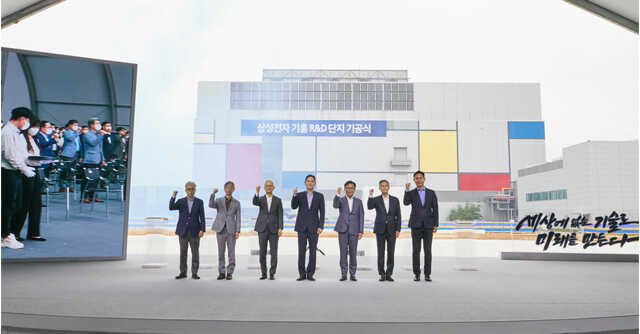 Samsung is planning to spend KRW 20 trillion (approx $15 billion) by 2028 to set up a new research and development (R&D) facility for chips in South Korea. The new facility will explore new wafer fabrication processes for memory and system semiconductors among other things.
The facility will be spread over an area of 109,000 square meters and will be located in Samsung's existing Giheung campus, near Seoul. It is one of three major fabs run by Samsung in South Korea alongside Hwaseong and Pyeongtaek.
According to a statement, the world's first 64MB DRAM was developed at the Giheung campus in 1992. It helped Samsung become the leading memory chip maker in the world.

Samsung is the second leading chip manufacturer in the world. According to a Counterpoint Research report, Samsung accounted for 15% of foundry business in Q2 2022 while TSMC with 54% market share is the market leader.
Last month, Samsung beat TSMC to become the first chip maker in the world to start production of 3nm (nanometer) chips. The 3nm chips use 16% lesser surface area and 45% less power than the 5nm chips, which are in use currently.
Samsung's vice chairman Jay Y Lee, who was convicted in a bribery case and later cleared of all charges by the President of South Korea, was present at the inauguration of the facility along with President and CEO Kye Hyun Kyung, President of the Memory Business Jung-Bae Lee, and President of the Foundry Business Siyoung Choi.

"Our new state-of-the-art R&D complex will become a hub for innovation where the best research talent from around the world can come and grow together," said Kyung in a statement.
"If we hadn't made bold R&D investments for next-generation products and in products that came after that, there would be no semiconductor business for Samsung today. We need to continue our tradition of investing pre-emptively and emphasising technology," Lee said at the inauguration, according to a ZDNet report.
After Covid-19 led to disruption in the supply of chips, chip companies have started exploring multiple global locations to set up new chip manufacturing facilities. Intel is setting up new facilities in the US and Germany. Last November, Samsung also announced that it will set up a new semiconductor manufacturing facility in Texas, US at an estimated investment of $17 billion.

Though chip manufacturing is still in the nascent stage in India, most global chip companies such as Intel, Texas Instruments, Qualcomm, and Nvidia have R&D facilities here.
---