Google wants more Android apps that switch seamlessly across devices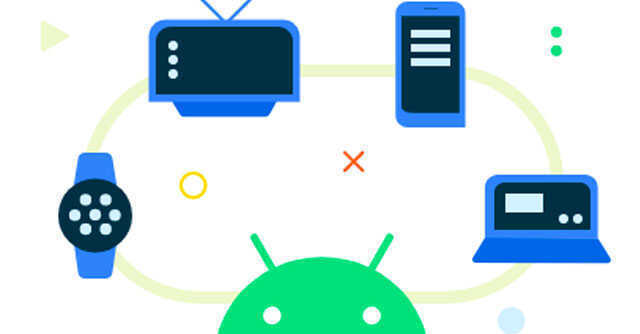 At I/O 2022, the latest edition of Google's annual developer conference, the company announced that it will offer a way for developers to create app experiences that can switch seamlessly across devices. Now, the company has announced that a developer preview of the software development kit (SDK) for building cross device experiences is now available — giving app developers the first glimpse of how such features could work on Android.
To be sure, cross device experiences would be different from Google's previously existing Nearby Share feature — which is closer to a standard Bluetooth (or Wi-Fi) based file transfer. With cross device experiences, Google imagines that a developer will build apps that can be transferred to a second smartphone through Bluetooth, Wi-Fi or Ultra Wideband (UWB) media — or even to other devices such as a tablet or a PC.
According to a blog post on the matter by Google executives Alex Rocha, Ryan Ausanka-Crues and Stella Loh, the SDK released in beta will handle the "intricacies involved with working with device discovery, authentication, and connection protocols" — which in simple terms mean building the technical compatibilities to establish seamless cross-device connections.

The SDK includes elements that will handle the process of discovering a compatible device nearby, establishing connections securely and with a thorough authentication process, and handling multi-device usage sessions connected to an app on a primary Android device. Authentication and security are two of the most obvious critical areas for such a feature, since enabling sharing of an app screen across multiple devices can also open up the risk of respective security breaches.
Developers using the SDK will also be able to run an app on a secondary device — without needing to have that app running in the background of the second device, Google's blog post said.
Form factor-agnostic and cross-platform usage scenarios have been growing in interest. For developers, it represents a clear advantage of building one app and distributing it across multiple platforms — with the app conforming to the layouts of each device. For users, this would mean a seamless usage scenario, where they can simply share their grocery delivery app screen with the rest of the family, who can then add what they need to the list — without having to hand the phone around physically to every member of a family, or asking each to download the app and register with the primary user's existing account details.

At present, even Apple's typically seamless software ecosystem does not offer a cross-device, multi-account app usage experience. As of now, Apple offers Universal Control, which enables users to use a single mouse or trackpad to control any Apple device linked to their account.
---