Indian security firms look to expand amid rising revenues, funding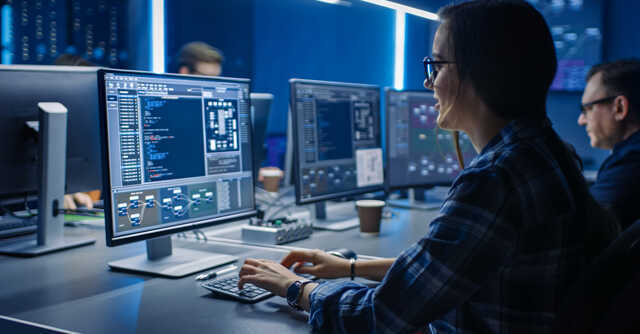 Indian cybersecurity firms, which are much smaller than global counterparts, have seen an influx of revenue and funding over the past year. The growth is driven by increased use of technology among small and medium enterprises (SMEs) and even governments.
For instance, Pune-based cybersecurity firm Quick Heal Technologies recorded 26% year-on-year (YoY) growth in terms of revenue in the enterprise segment. The firm's revenues grew from ₹14.5 crores in Q1 FY2022, to ₹21.6 crore in the first quarter of the current financial year.
Chennai-based K7 Computing also said that it doubled revenues in the last 12 months, as compared to the year before it.

Though their clientele includes large enterprises, these firms are seeing a lot of interest from small and medium enterprises (SMEs), especially after the pandemic. They have also seen interest from Europe and North American clients, though India continues to be their biggest market. Kailash Katkar, MD and CEO of Quick Heal said that Europe and APAC markets are leading the firm's international growth, while K7 Computing is seeing traction in Middle-Eastern and Southease-Asian markets, said J Kesavardhanan, founder and president of the firm.
"Majority of SMEs have faced cyber-attacks in one way or the other. Now they understand the criticality of the cyber component. Hence, the adoption has increased," said Karmesh Gupta, co-founder, and CEO of WiJungle, a Gurugram-based cybersecurity firm.
According to an August report from the International Data Corporation (IDC), 74% of large enterprises in India have increased spending on security this year. Government, banking, and healthcare are some of the sectors where spending has grown. Healthcare and education sectors have contributed significantly to the growth of cybersecurity firms, according to Kesavardhanan.

Sujit Patel, MD and CEO of Mumbai-based security and IT firm SCS Tech said the company saw a 40% hike in the demand for enterprise-level IT infra, cybersecurity, and data analytics in government and public sector undertakings (PSUs) in the last two years.
Most Indian security firms offer antivirus solutions for consumers and enterprises, however many of them are also offering solutions for network security and threat management. WiJungle saw the highest traction for its unified network security platform. Such platforms allow enterprises to manage their entire network from a single security console. Quick Heal is seeing a lot of interest in its endpoint security and zero trust.
"Indian security services companies are offering self-services models with value added, network-based security solutions and secure transformational services to existing customers," said Rama Vedashree, CEO of Data Security Council of India (DSCI).

Indian firms are also strengthening existing offerings by leveraging artificial intelligence (AI), machine learning (ML), robotic process automation (RPA), Blockchain and cloud, said Vedashree.
Quick Heal's Katkar said that to ease adoption for companies looking to cut spending amid global economic concerns, the firm is offering partner plans and flexible deal structures.
Indian firms are also expanding to new markets and increasing hiring now. For instance, K7 Computing has increased its headcount by 30% to reach 375 over the last one year, while WiJungle aims to grow from around 100 to over 125 employees by the end of the year.

The growth isn't driven by revenues alone either. According to investment tracking firm Tracxn, cybersecurity startups in India raised $67.2 million in funds over 24 deals between September 2021 and August 2022 as compared to $27.9 million raised between September 2020 and August 2021.
---