Why aren't you getting 5G on your phone?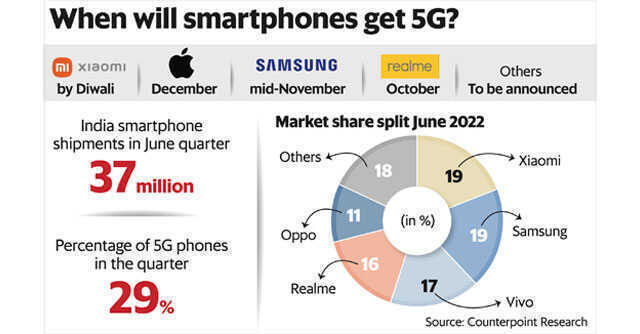 Even though 5G network rollouts have started in India, phone users are wondering why their 5G-capable smartphones cannot access these new networks. Mint explains the reasons behind the delay and what measures the mobile makers are taking to speed up adoption.
What's the status of 5G networks in India?
5G services may only have rolled out in India less than two weeks ago, but smartphone makers have been advertising '5G support' on devices on smartphones they sold for over a year. For instance, smartphone maker Xiaomi has said that it shipped over 7 million 5G phones in India between May 2020 and June 2022. However, a 5G ready phone isn't necessarily ready to access these networks. It means that the phone has the necessary hardware required in order to connect to a 5G network, but the smartphone maker may still have to deliver relevant software updates for them to connect to these networks.

What's the software hurdle to 5G adoption?
You may have noticed that smartphones tend to drain battery faster in areas with poor mobile networks. That's because the devices are designed to keep looking for a network and connect whenever it is possible. So, turning on 5G on a phone when the network isn't available could lead to battery drain, which is one of the chief reasons why phone makers disabled it at launch. This is commonly called a 'software lock', which basically tells a phone to not look for a 5G network and connect only to 4G networks. This is why an iPhone's connectivity settings only show 3G and LTE right now.
Also read: Apple, Samsung, Xiaomi confirm 5G updates for Indian devices by December

What can I expect when my phone gets 5G?
Unfortunately, there should not be much noticeable change other than the fact that a 5G option will show up on your smartphone's connectivity settings. 5G's significant benefits are still meant for enterprises and businesses, and though bandwidth and speeds will increase, the difference will likely not be discernible for users.
Read the full story on Mint.

---