Generative models like Dall-E, ChatGPT to 'hugely impact' our future: Satya Nadella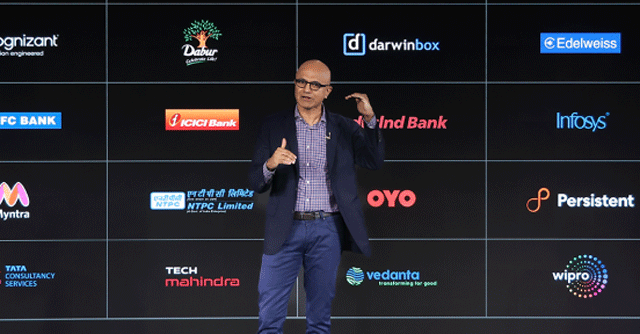 'Reasoning engines', or large language model-based artificial intelligence tools such as OpenAI's Dall-E and ChatGPT, would play increasingly important roles in the future of workers, according to Satya Nadella, chief executive of Microsoft. Speaking at the Microsoft Future Ready Leadership Summit in Mumbai as part of his four-day India visit, Nadella highlighted six "digital imperatives" that businesses must focus on today, and underlined the role that technologies and applications built natively on cloud platforms can play for modern businesses.
As part of his presentation, Nadella highlighted that while generative AI tools, such as ChatGPT and Dall-E, generated less than 1% of the world's AI data sets in 2021, this can increase to 10% of all data generated by AI by 2025.
"In future, the generative models will generate most of the data. We are right now seeing the emergence of a new reasoning engine. We'll clearly have to talk about this reasoning engine — what are its responsible uses, what displacements will it cause, and so on. But on the other side, we should also think about how it can augment us in what we are doing today since it can have a huge impact on our future," Nadella said.

"Ultimately, these tools will accelerate creativity, ingenuity and productivity across a range of tasks. It is going to be a golden age — the computer revolution created mass consumer behaviour change and productivity for knowledge workers. But, what if we could spread that productivity more evenly? To me, that is one of the biggest things to look forward to, and the way to achieve this is by building a robust data infrastructure," he added.
Nadella also highlighted that the technology that will enable the adoption of such "reasoning engines" is the advent of "cloud-native applications".
"Cloud-native applications have really not yet begun. By 2025, we'll have most applications anyone builds at that efficient frontier of cloud-native technologies — it will be 10x, even 100x better in some cases. But it's not just that, if you move to the cloud, the latter is 70-80% more energy efficient too. You also hedge against demand cycles — by moving to the cloud, you only consume when you need it. This tri-factor is very compelling," the top executive said.

Microsoft's Azure suite of services rank as among the top three cloud platforms in the world, alongside Amazon Web Services (AWS) and Google Cloud. Addressing the audience in Mumbai, Nadella underlined that Microsoft is investing heavily to build cloud infrastructure — including a new cloud and data center infrastructure in Hyderabad. With this, Microsoft presently has over 60 cloud regions and over 200 data centers around the world.
"Every business today will need compute power at the location where data is generated. So, demand for distributed computing will remain. We see tremendous momentum today — we see the likes of Adani using Azure for expansion, HDFC Bank using it to consolidate data platforms, Yes Bank built their super app on it, and more," the top executive underlined.
---