MeitY, Siemens Healthineers sign MoU to improve access to low-cost MRI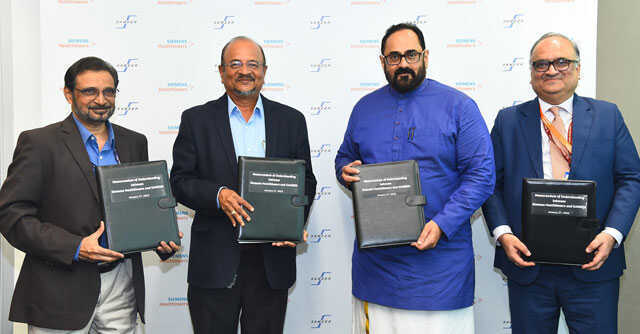 The ministry of electronics and information technology (MeitY) and Siemens Healthineers signed a memorandum of understanding (MoU) to offer advanced healthcare and diagnostic access in India. For this initiative, Siemens Healthineers is partnering with the Society for Applied Microwave Electronics Engineering & Research (SAMEER), a premier research and development institute under MeitY.
This partnership will help create local industry access for Siemens Helathineers and offer SAMEER access to next-generation research in advanced healthcare technologies. SAMEER is currently developing indigenous magnetic resonance imaging (IMRI) technology under the Indian MRI system called Sushrut.
Rajeev Chandrashekhar, the minister of state for IT, who was present at the event said that this partnership will help in improving access to low-cost magnetic resonance imaging (MRI). "We are also supportive of research and development model based on co-development between Global companies and India's vast network of academic institutions," said Chandrashekhar. In the future, the government will also collaborate with experts in the healthcare sector to chart out the curriculum for the future workforce in this sector, he added.

"The partnership will focus on fighting the most life-threatening diseases and strive to make healthcare even more efficient, sustainable, and humane for everyone across the country," said Peter Schardt, chief technology officer, Siemens Healthineers.
"Partnerships like these reflect our commitment to India in bringing together innovation, education, healthcare, and talent to strengthen India's healthcare infrastructure and deliver the right treatment at the right time everywhere," said Dileep Mangsuli, Development Center head, Siemens Healthineers.
---