Apple records 'very strong' double-digit growth in India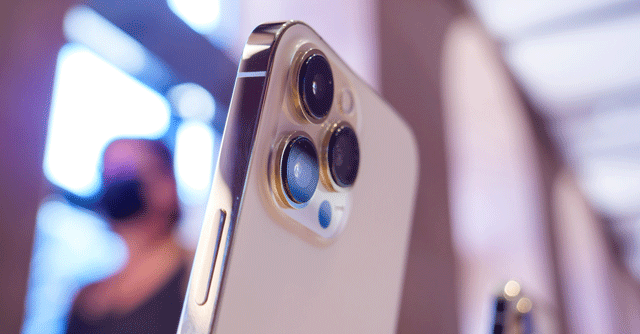 Riding on the success of its iPhone 13 premium phones, Apple Inc. registered its third straight quarter of "very strong double-digit growth" in India, confirming its leadership position in the premium segment while also bringing it a step closer to ranking among the top five smartphone brands in the country.
During its quarterly earnings call on Thursday, Apple chief Tim Cook said India registered record quarterly revenue for the brand, as well as set an all-time revenue record in terms of shipments of the iPhone during the period. "We're bringing retail there and bringing the online store there and putting a significant amount of energy there. I'm very bullish on India," Cook said.
Analysts attributed much of Apple's growth to its aggressive promotions during festive season sales. The iPhone 13, for instance, was available at under ₹50,000 during the first week of 2022's festive season sales in September last year, and it had topped shipment charts during last year's festive season.

According to Counterpoint, iPhone 13 the top-selling smartphone in the overall Indian smartphone market last October. And Apple was the leader in the premium smartphones segment of devices priced above ₹30,000, capturing 50% of the market in the December quarter too, according to Counterpoint. Further, It had a 42% market share for the whole of 2022.
Premium devices accounted for 16% of all devices in the December quarter, as 11% for the whole of calendar 2022. Samsung was ranked second with a 21% market share, followed by OnePlus with 11%.
The June and September quarters had also set "all-time revenue records" for Apple in India. And its good December quarter performance in the country comes at a time when the Cupertino-headquartered technology company saw its December quarter global revenue decline due to the disruption of iPhone production in China.

"We feel very good about how we performed, and that's despite the headwinds that we've talked about. Taking a step back, India is a hugely exciting market for us and is a major focus," Cooks said.
In the December quarter, Samsung led the market with 20% market share in India, according to quarterly shipment data from Counterpoint published on 27 January. Vivo, Xiaomi, Oppo and Realme were the other brands in top five with 18%, 18%, 11% and 8%, market shares respectively, during the period. Apple was close at the heels of Realme at sixth place with nearly 8% market share for the December quarter's shipments, according to the Counterpoint note. Apple's overall 2022 market share stood at 4.5%.
According to Prachir Singh, senior research analyst at Counterpoint, Apple's rise in fortunes also comes amid a phase of decline for the overall smartphone industry. Singh added that while Apple's market share grew 12% year-on-year (YoY) in the December quarter, the overall Indian smartphone industry saw a 20% YoY decline during the same period. Apple shipped nearly 7 million units during CY22, according to industry analysts — a growth of around 16% YoY in a year when the rest of the smartphone industry saw a 9% YoY decline to ship 152 million units last year, according to the above-cited Counterpoint report.

Sanyam Chaurasia, analyst at market research firm Canalys said Apple shipped 1.9 million iPhones in the December quarter and was the sixth leading smartphone vendor in India. Navkendar Singh, associate vice president, devices research at IDC, concurred, adding that the company "would have seen further growth through 2022, but shipments were stifled as a result of supply chain concerns that hit the availability of Apple's newest generation iPhone 14 Pro and Pro Max, last November".
Apple's success in India also stems from the fact that the country is emerging as a major manufacturing destination for iPhones. Apple is looking to expand production in India as it looks to diversify manufacturing and reduce dependence on China. Last month, Piyush Goyal, union minister of commerce and industry, said at an industry event that Apple is planning to expand iPhone production in India from the current 5-7% to 25% of its overall production.
Spurred by the pace of growth, Apple is sharpening its focus on the country. "India is a hugely exciting market for us, and is a major focus. We brought the online store there in 2020, and we will soon bring Apple retail there. So, we're putting a lot of emphasis on the market. There's a lot that's been done from financing options and trade-ins, to make products more affordable and give people more options to buy. There's a lot going on there," he said.

Apple already operates flagship retail stores, known as 'Apple Store', as premium, user-friendly customer experience centres, equipped with trained customer interaction experts called 'Geniuses' to offer hands-on technical support. Mint reported on 12 January that Apple is hiring workers for its offline stores, which are expected to open in Delhi and Mumbai in the first half of this year. "Among the highlights of Apple's results call was a reinforcement of the commitment to bringing Apple Retail to India. One only invests in retail when you are confident of the growth prospects of the market," Faisal Kawoosa, chief analyst and founder of techARC, tweeted on Friday.
Kawoosa added that offline still sells 65% of smartphones to end consumers. Counterpoint's Singh concurred that "the physical look and feel matter more" in the premium segment, which has given offline sellers a fillip as the covid-19 pandemic concerns eased.
Globally, though, Apple was unable to replicate its India success. The company's overall quarterly revenue declined 5% YoY to $117.2 billion, making it the largest quarterly decline for the company in 2016. Cook attributed the decline to the strong dollar, the disruption of production in China, which impacted the supply of iPhone 14 Pro and iPhone 14 Pro Max, and the overall macroeconomic environment, which has impacted consumer spending. iPad and Services were the only verticals that saw growth during the quarter. Revenue from iPad grew 29.66% YoY to $9.4 billion while services revenue grew 6.4% YoY to $20.77 billion.

---