Microsoft releases new Bing Search and Edge browser with ChatGPT like capabilities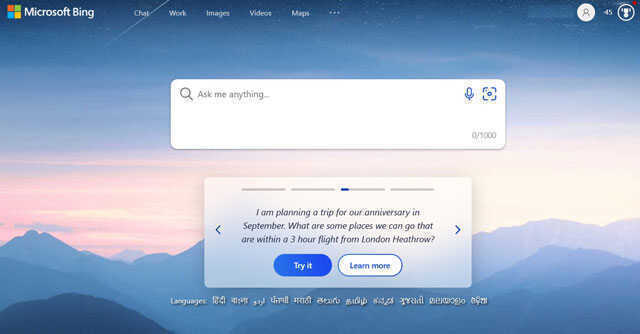 Microsoft has released a new version of its Bing search engine and Edge browser, which uses OpenAI's generative AI models such as ChatGPT to offer a chatbot experience within search, allowing users to get their queries answered instantly. The chatbot feature is available under preview at Bing.com through a waitlist program.
According to Microsoft, the chatbot in Bing can chat naturally and users can ask follow-up questions to their initial search and get personalized responses. Also, Bing will gather information from reliable sources across the web to provide a "single, summarized answer" in addition to a list of relevant links.
"AI will fundamentally change every software category, starting with the largest category of all — search. Today, we're launching Bing and Edge powered by AI copilot and chat, to help people get more from search and the web," said Satya Nadella, chairman and CEO of Microsoft.
Microsoft announced last month that it will integrate OpenAI's models into its services and make it available to companies through its Azure OpenAI service. Microsoft has 49% stakes in OpenAI and has reportedly invested $10 billion in it to spur research, development, and commercial adoption of OpenAI's various models. Last week, the big tech company released a premium version of the Teams meetings app, which uses Open AI's GPT-3.5 to offer more personalised and secure meeting experiences to enterprise users for a monthly subscription.

The big tech company claims every day 10 billion search queries are generated out of which half remain unanswered because people are using search in ways it was not originally designed to be.
"It's great for finding a website, but for more complex questions or tasks too often it falls short," said Yusuf Mehdi, corporate vice president & consumer chief marketing officer at Microsoft.
The integration of ChatGPT with search engines has also alarmed Google, which dominates the search engine market. According to Statcounter data, Google accounted for 92.9% of the global search market as of January. Bing has a market share of only 3.03%.

Google is reportedly working on 20 new AI products this year along with a chatbot feature in its search engine. On February 6, CEO Sundar Pichai announced its answer to ChatGPT. Dubbed Bard, the chatbot will be available only to a select group of testers and will be released to a wider audience in the coming weeks.
Bard is based on the company's large language model LaMDA, which a former Google engineer claimed had become sentient or self-aware. The claim was refuted by Google. ChatGPT is also based on a transformer model called GPT-3.5.
Founded by current CEO Sam Altman, Elon Musk, and a few other Silicon Valley entrepreneurs, OpenAI is a US-based AI research startup known for its various generative AI models such as ChatGPT (it can generate responses like humans and write poems and codes), DALL-E (it can generate images and artwork from text instructions), and Codex (it can generate code from text prompts in the English language).

Last week, Open AI announced that ChatGPT has surpassed 100 million users. The startup is also testing a premium version of ChatGPT, which will be available for a monthly subscription fee of $20.
---