Instagram to introduce Broadcast Channels for creators to interact with their audience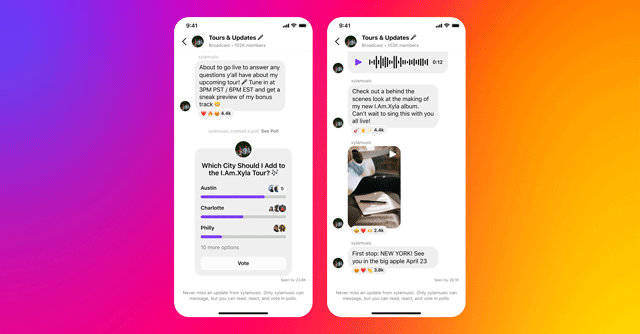 Mark Zuckerberg, the chief executive officer of Meta, launched Broadcast Channels, a public one-to-many messaging tool, for Instagram. It is a public, one-to-many messaging tool, primarily targeted at content creators to invite and engage with their followers.
Creators can use these channels from their Instagram inboxes. Upon sending the first broadcast channel message, the followers will get a one-time notification to join the channel. The channel icon will be available in the Instagram inbox next to other message threads. Further, creators can invite their followers through a 'join channel' sticker in Stories or by pinning the channel link to their profile.
The Broadcast Channel can be used by content creators to share updates, behind-the-scenes, moments, and create polls to receive fan feedback. Through these channels, only creators will be able to send messages, while the audience would be allowed to just react to the content and vote in the polls. Instagram will be including more features like the option to add another creator for collaboration and collect questions for ask me anything (AMA) sessions.

The broadcast channels are currently being tested with a few US-based creators; Meta plans to expand in the coming months. In the next few months, broadcast channels will also be extended to Messenger and Facebook.
Meta and its platforms like Facebook and Instagram have been rolling out several creator-friendly initiatives since the boom in the creator economy. In June 2022, Meta said that it is launching better avenues for creators to monetise their content on Facebook and Instagram by introducing paid online events, fan subscriptions, and badges.
Earlier in 2021, Facebook announced bonus programs worth $1 billion to lure creators to its platform. "We want to build the best platforms for millions of creators to make a living, so we're creating new programs to invest over $1 billion to reward creators for the great content they create on Facebook and Instagram through 2022. Investing in creators isn't new for us, but I'm excited to expand this work overtime," Zuckerberg posted on Facebook.

---