ISRO arm targets 10 commercial SSLV launches by 2026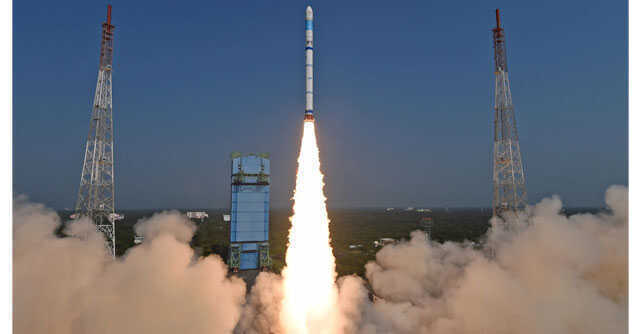 NewSpace India Ltd (NSIL), the commercial arm of the Indian Space Research Organisation (Isro), plans to ramp up the number of missions it handles each year using its Small Satellite Launch Vehicle (SSLV).
In an interview, Radhakrishnan Durairaj, chairman and managing director of NSIL, said the state-run company has built three SSLV rockets so far, and the success of the first rocket earlier this year has led it to approach commercial clients for satellite launch contracts.
"We are presently reaching out to commercial clients that we have already worked with, to understand the kind of market demand that we will garner. By 2025, we expect to launch around five to seven missions through the SSLV, which can increase to around eight to 10 missions within another year," Durairaj said. He said NSIL is already in talks with private sector firms to boost production capacity of SSLV rockets.

The SSLV is the first lightweight homegrown rocket to have successfully reached the low earth orbit (LEO) of around 700 kilometres above the Earth's surface. A light rocket has a capacity of about 500kg in terms of payload, or the satellites that it can carry to space. Larger rockets such as Isro's Polar Satellite Launch Vehicle (PSLV) typically have up to 2,000kg payload capacity.
While larger rockets can carry more satellites into orbit, they usually require a large customer to book the majority of the rocket's payload capacity, and can hence perform fewer missions per year. The SSLV, however, can tap a growing demand for smaller satellite launches from private firms to undertake more missions.
The PSLV, therefore, doesn't have the kind of scale that NSIL can achieve with the SSLV. For instance, the PSLV made two launches in 2020, one in 2021 and three last year. Increasing commercial launch capacity to up to 10 per year will give NSIL far greater launch capacity.

Durairaj said demand has shifted towards small satellite launches and smaller rockets that can handle such work. Small rockets like the SSLV target nano- and micro-satellites, which weigh less than 10kg and 100kg respectively, and offer on-demand launch services without requiring their makers to wait for a larger company to book bulk of the capacity.
"The SSLV is a small rocket built with a commercial goal in mind—the rocket will take lesser time to be built, and is expected to serve as an on-demand satellite launcher, which, when combined with India's upcoming private space sector, will give our country far greater commercial satellite launching capacity than what we have had," said Anil Kumar Bhatt, director-general of industry body, Indian Space Association (ISpA).
The current global market leader in terms of commercial orbital space launches is the US, and specifically, Elon Musk-helmed private space firm, SpaceX. The latter launched 61 commercial missions last year, and is presently the most frequently operating private orbital spaceflight launcher in the world.

The SSLV, along with rockets from private space firms in India like Agnikul Cosmos, are expected to help India gain a larger share of the global space market. A report by ISpA and consultancy firm EY India in October last year said that commercial satellite launch services can see the homegrown space industry contribute $13 billion to the economy by 2025 — a figure that most industry stakeholders are optimistic in terms of achieving.
Agnikul Cosmos is expected to conduct a demonstrator mission of its Agnibaan rocket later this year. Fellow startup, Skyroot Aerospace, conducted its first launch in November last year with the Vikram-S rocket, and is targeting an orbital launch with a follow-up rocket, Vikram-1, in the December quarter of this year.
"We have already signed commercial contracts with a number of companies, and will likely have around five commercial payloads aboard the rocket in our mission later this year. Following the first launch at the end of this year, we plan to conduct multiple commercial launches with Vikram-1 through 2024. We're already talking to companies to sign contracts for these launches," said Pawan Kumar Chandana, chief executive of Skyroot.

With the public and private sectors combined, India expects to hit double-digit annual rocket launches within the next 18 months, according to industry experts. The SSLV, Vikram and similar rockets are expected to account for a majority of these launches.
---