OneWeb successfully deploys penultimate satellite batch to global constellation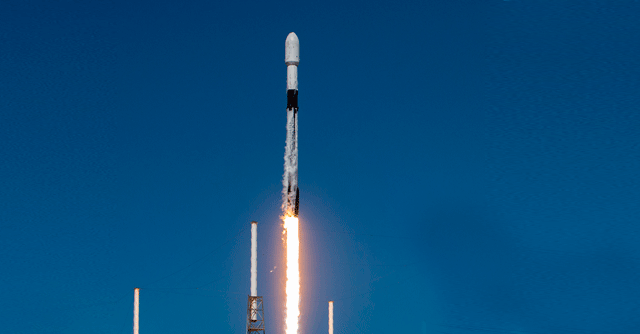 UK-headquartered satellite operator OneWeb, backed by domestic telco Airtel's holding company, Bharti Group, on Friday announced the successful launch of the 17th and penultimate batch of satellites as part of its global constellation. The company confirmed that it now has 582 satellites in orbit, and the global constellation is expected to be completed by end-March, with a launch aboard a domestic NewSpace India Limited (NSIL) rocket.
The latter, which has not been confirmed by NSIL or central space body Indian Space Research Organisation (Isro) yet, will give the satellite operator complete bandwidth to offer global satellite internet connectivity in partnership with on-ground operators, such as Airtel itself. OneWeb is also likely to become the first of multiple notable global collaborations that are seeking to establish their own global satellite constellations to offer internet connectivity.
Satellite-based internet connectivity, to be sure, has been in use for a long time in niche applications, such as maritime communications or remote locations. With the advent of low-earth orbit (LEO) satellite operators, satellite internet services are tipped to play a bigger role in the mainstream enterprise network space.

The Bharti-OneWeb service, which could be among the first to launch their services globally, are expected to be rivalled by other entities such as Elon Musk-backed SpaceX's Starlink, Jeff Bezos-backed Project Kuiper, fellow domestic telco Jio in partnership with Luxembourg-based satellite operator SES, domestic satellite-based connectivity services provider Nelco in partnership with Canadian satellite operator, Telesat.
Neil Masterson, chief executive of OneWeb, said in a press statement that the company's global service will be activated this year itself, without specifying a timeline for when would it become active.
OneWeb's milestone nears amid an increase in interest for satellite internet connectivity among consumer devices, too. In September last year, Apple partnered with US-based satellite services provider Iridium to bring satellite internet connectivity to its iPhone 14 series of devices. Chipmaker Qualcomm followed this up with the launch of the Snapdragon Satellite chip, while fellow Taiwanese chipmaker MediaTek also showcased a competing chip at the recently concluded Mobile World Congress event.

With increasing interests from all quarters, it remains to be seen how the pace picks up in the satellite internet industry.
---