Qualcomm launches Snapdragon 7+ Gen 2 SoC with better CPU, GPU, AI abilities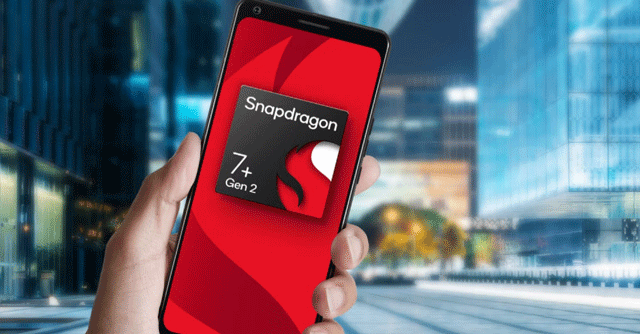 US chipmaker Qualcomm on Friday unveiled its new smartphone chip, the Snapdragon 7+ Gen 2. The new chip is based on Taiwanese chip manufacturer Taiwan Semiconductor Manufacturing Company (TSMC)'s 4nm fabrication process, moving away from the 4nm process by Samsung that the predecessor, Snapdragon 7 Gen 1, was based on. This has helped Qualcomm achieve better performance abilities, while reducing power consumption as well.
In a media roundtable ahead of the launch, Qualcomm said that the Snapdragon 7+ Gen 2 chip marks the most powerful non-flagship chip that the company would have in its portfolio right now. The launch comes after the Snapdragon 7 Gen 1 SoC was launched in May last year, and featured in devices such as Xiaomi 13 Lite. Qualcomm said that new phones based on the Snapdragon 7+ Gen 2 will be launched by the end of this month itself, and Chinese brands Redmi and Realme are already working on these devices.
During the roundtable, a Qualcomm executive added that smartphones powered by Snapdragon 7+ Gen 2 SoC will be priced between $400 and $600, which is approximately between ₹30,000 and ₹50,000. The chip will rival a similar sub-flagship chip from Taiwan-based chipmaker, MediaTek's Dimensity 8200 SoC. The latter was announced in December last year, and is also based on TSMC's 4nm process. Chinese brand iQoo has announced a smartphone on the said chip already.

In terms of performance, the Snapdragon 7+ Gen 2 SoC features one Cortex-X2 performance core, three Cortex-A710 primary cores and four Cortex-A510 efficiency cores, in an eight-core processor layout. All the cores are designed by Arm, and are customised by Qualcomm into what it refers to as 'Kryo' cores. While the previous generation flagship SoC, the Snapdragon 8+ Gen 1, also had a similar configuration, the Snapdragon 7+ Gen 2 uses the same configuration at slower speeds.
Qualcomm said that the chip will offer 50% higher overall performance, with 15% faster single-core test results on the Geekbench benchmark test. It added that the new Adreno GPU will feature Qualcomm's 'Snapdragon Elite Gaming' features such as auto variable rate shading and volumetric rendering, rivalling MediaTek's ray tracing offering on the Dimensity 8200. Qualcomm's chip reportedly has a two-times more powerful GPU than its predecessor, scoring 25% faster in Geekbench graphics tests, and 65% faster on the benchmark's stress tests.
Finally, the chip is 13% more power efficient than the predecessor as well, which should lead to more power efficiency on smartphones.

---