Cisco Agri-Challenge: 10 months later, winners are transforming the agricultural sector and uplifting farmers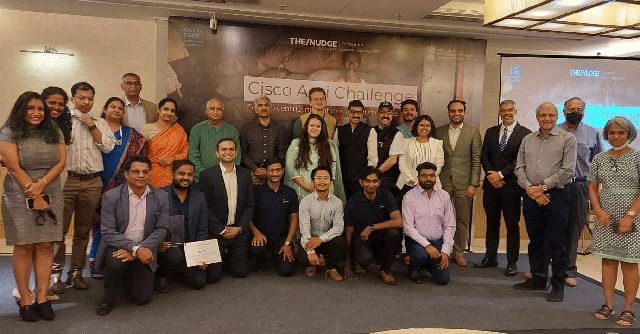 Indian agriculture and the food industry overall has seen tremendous advancements over decades, leading to food security for the country and benefits for the consumers, many of whom enjoy 20-minute grocery delivery in cities.
However, most of these innovations have historically not benefited smallholder farmers themselves. The average income of an Indian farmer remains less than half of India's national average, even though the sector employs nearly 50% of the country's population.
In December 2020, Cisco, a technology leader, and The/Nudge Institute, a non-profit dedicated to promoting social entrepreneurship, joined hands to solve this problem through the CISCO Agri-challenge, inviting startups to submit disruptive solutions, offering a cash purse of 2 crore rupees and access to mentorship and partners. The initiative was also supported by the Office of the Principal Scientific Adviser, GoI and NITI Aayog.

The challenge intended to jump-start the private entrepreneurship engine in the sector.
"At Cisco, our purpose is to power an inclusive, sustainable, and equitable future for all by leveraging technology for the greater good. The potential of the Indian startup ecosystem is indisputable, but access to funding, especially for social startups has remained a challenge. We believe that the biggest success of the Cisco Agri Challenge is the model – where industry funding & technological expertise, government support and social incubation have all been brought together.
We are at the forefront of bringing together the ecosystem and identifying unique models of funding, supporting and mentoring startups that are on the glorious path of finding solutions that will transform India and lead the way for India to become a global technology and innovation hub."

– Harish Krishnan, Managing Director & Chief Policy Officer, Cisco
Winners
The Agri-challenge concluded in April- 2022, with two women-led companies, S4S technologies and BioPrime AgriSolutions, emerging as winner and runner-up out of 840 applicants, 25 semi-finalists and 8 finalists, competing across 16 months.

S4S Technologies has developed a solar-powered food preservation technology that dehydrates and processes excess produce, significantly increasing its shelf life.
"Farmers are forced to sell lower graded B & C category produce for dirt cheap as they have no logistical support to avoid wastage. They also miss out on the value addition that happens when a kilo of potatoes that sells for Rs. 50 gets Rs. 150 as chips. With the help of women entrepreneurs in every village who act as aggregators, we help farmers capture this 3X value increase.
The Cisco Agri-challenge came at a time when we had the foundations of this business model ready but did not have scale. The platform opened up a lot of avenues for us and gave us access to partners in government and other agricultural stakeholders, along with funding and mentorship to bring all the pieces together and expand."

– Nidhi Pant, Co-founder, S4S technologies.
BioPrime takes a different route, using the power of biotechnology to help farmers avoid crop loss. The company's founders spent 15 years in the lab working on plant physiology and ended up launching a company when they realized there was a big gap between academic progress and solutions farmers find commercially available.
"When we started in 2016, there was a terrible drought in Narayangaon, just two hours away from us in Pune. Flowers burnt in the heat and trees were ravaged by viruses, decimating productive farms within a couple of weeks.

We had worked on a trial basis with a hundred farms there, and in the middle of all that devastation, these hundred farms remained green and produced the same harvest as the year before. That's when we knew we could really make a difference and protect farmers in the face of climate change if we scaled up, and the Agri-challenge helped us do exactly that."
– Renuka Diwan, Co-founder, BioPrime AgriSolutions
Nearly a year after the challenge concluded, both companies are in the middle of rapid growth and racing to keep up with demand. S4S technologies is now working with over 100,000 farmers present in 200+ villages in India and has joined the United Nations World Food Programme. BioPrime has expanded from a couple of states to a pan-India presence and launched products into the market for India and the world.

Both companies continue to engage with CISCO and The/Nudge as they scale up, receiving mentorship and support on everything from their tech stack to building a corporate organization.
"After the challenge concluded, it felt like we went from class 5 to class 10 overnight. We are first-time entrepreneurs who are learning as we are growing, but the extended format with regular check-ins has been a huge help. The Cisco global team has been lending their experience and advice on every day-to-day challenge we face without hesitation."
- Nidhi Pant, Co-founder, S4S technologies
The future
Laudable as the successes of S4S and BioPrime are, the true impact of the Agri-Challenge will perhaps be in opening up a whole new avenue for social entrepreneurs.
"We might have had only two winners who won the generous cash prize from Cisco, but the challenge also gave the agricultural ecosystem at least 8 great ideas to work with.
The contestants have raised ~20X the investment they received from the challenge and now have access to investors and partners in the industry and government. We are excited to see how each of these companies shake up the sector."
– Kanishka Chatterjee, Head of The/Nudge Prize
The success of the Agri-challenge and the energy of its contestants have been motivators for Cisco and The/Nudge, as both organizations continue on their missions to better the world through technology and entrepreneurship.
This time, they are confident innovation and progress will not leave anyone behind, and the age-old slogan 'Jai Kisan' will finally be fulfilled.
Brand Solutions is a marketing initiative for sponsored posts. No TechCircle journalist was involved in the creation of this content.
---