SAP Labs India, MSRIT join hands for tech innovation and research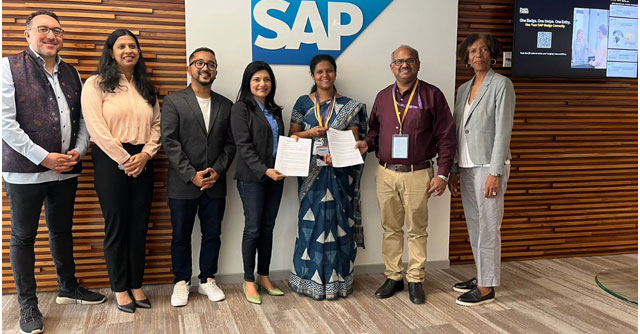 SAP Labs India, a subsidiary of German software company SAP on Wednesday signed a memorandum of understanding (MoU) with Ramaiah Institute of Technology (MSRIT), private engineering college located in Bangalore to work on various projects pertaining to technological innovation and research.
The two entities have been working together on several projects since February 2023. One of the programmes launched called Young Upstarts, provides students access to the tools they need to launch their own startups. Through this program, SAP offers in-person sessions to interested students at the MSRIT campus to help them gain an entrepreneurial mindset, draft the ideal business pitch, and among other crucial business values required to build a successful startup.
Selected students in the Young Upstarts program will also get the chance to work with seasoned professionals to develop broad technical skills. Additionally, as part of the student-partner program, SAP Labs India has aligned with MSRIT to include two student partners (or campus ambassadors) in their developmental programs.

"Industry-academia partnerships are essential for advancing research and development, fostering innovation, and providing economic benefits. SAP Labs India's partnership with MSRIT is yet another step to foster our commitment to deepen industry-academia collaboration and explore synergies around emerging and new technologies," Sindhu Gangadharan, SVP & MD, SAP Labs India and Head, SAP User Enablement.
Gangadharan had told Mint in an interview published in November 2022 that India is one of the five hubs of SAP that handles a larger part of the product portfolio such as the ones in the U.S, Germany, and China and from a core R&D perspective, India is the largest hub with more than 14,000 people of which 12,000 plus are focused on R&D. She also said that the company is "exploring innovation centres, closer to the universities we engage with. We go where the talent is".
According to a press release, as part of the collaboration, an All-India Hackathon will be held on the MSRIT campus, open to participation from students across universities in India. SAP's business teams will provide problem statements, basis which the young minds will build tech-based solutions with help from their mentors.

The joint efforts of MSRIT and SAP Labs India will help students unleash their latent potential and enable them to learn, explore and grow under the guidance of industry experts, N. V. R. Naidu, Principal, Ramaiah Institute of Technology, said in a statement.
Another project in the pipeline is a special interest group called the Academia Alumni Network (AAN) as part of research engagement and collaboration hub, with MSRIT being one of the first institutions. Additionally, SAP Labs India also said that it has progressed to branding operations at MSRIT in jointly designated locations on the campus.
---