Intel starts shipping 4th Gen Xeon processors as it eyes more growth in data center business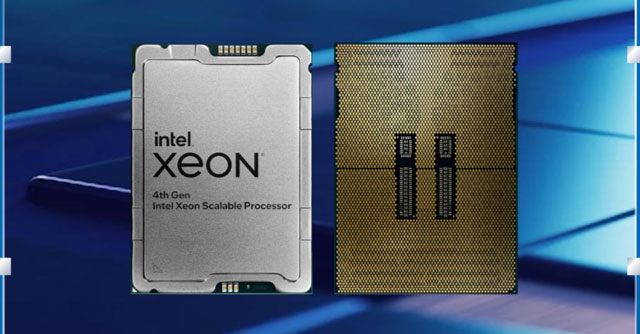 US chipmaker Intel hosted an investor webinar on Wednesday, where it underlined that its long-awaited next-generation data center chips, the 4th generation Xeon processors, are now shipping at scale to customers in the data center, cloud services and artificial intelligence industries. The processors, known better as their codename Sapphire Rapids, were initially estimated to launch in end-2021 following the introduction of 3rd generation Xeon processors in Q1CY21 — but a host of manufacturing delays, including refining the manufacturing process for the processors, pushed the launch back by nearly six quarters.
In the investor call, Sandra Rivera, executive vice-president and general manager of Intel's data center and AI business, said that all "major" data center and AI brands are now shipping the 4th generation Xeon processors, and the top 10 global cloud service providers — which would include the likes of Google, Amazon and Microsoft — are working on integrating the processor lineup into their underlying infrastructure.
The wide-scale shipping comes after a delay that also appears to have cost Intel in terms of its revenue market share. According to a February 27 report by market researcher Counterpoint India, Intel ended CY22 with a revenue market share of 70.7% — down by over 12% from CY21, when it captured 80.8% of data center CPU revenue.

But, Intel now expects to consolidate its still-majority market share in the data center and server CPUs market, where its primary rival, AMD, has clearly gained ground with its 'Epyc' line of processors. In the investors' call, Rivera, along with colleagues, offered a direct comparison with a 4th generation, 48-core AMD Epyc server CPU, and claimed that the 4th generation Xeon processors offer 4x higher average performance on deep learning workloads.
Intel also offered a roadmap of its processor deployments in the years to come, stating that the December quarter of CY23 will see the launch of 5th generation Xeon 'Emerald Rapids' processors, with customers already sampling the product. The latter will be a performance-grade product, and will be followed closely in H1CY24 with Sierra Forest, Intel's 3nm-based data center processors.
To be sure, the present 4th generation Xeon processors are based on Intel 7 — which, despite its naming, is actually the third iteration of the company's 10nm fabrication process.

Intel further detailed that Sierra Forest will be closely followed by the next generation of performance core-powered data center chips, Granite Rapids. The latter will actually be a follow-up to Q4CY23's Emerald Lake, while Sierra Forest's follow-up will come in CY25 with Clearwater Forest.
All of this, according to Intel, will see the company target a larger market than it expected. Rivera said that Intel is now targeting an addressable data center and AI market worth $110 billion — which is nearly double the market size that it estimated at its 2022 investor conference for the sector.
Intel, however, will contend with rising competition from more rivals in the market, such as Amazon's own Arm-based server chips, and fellow US chip designer Ampere as well.

---